Over The Moon And Into The Playoffs
Kyle Turris was excited to join the Senators and now he is focused on helping them achieve playoff success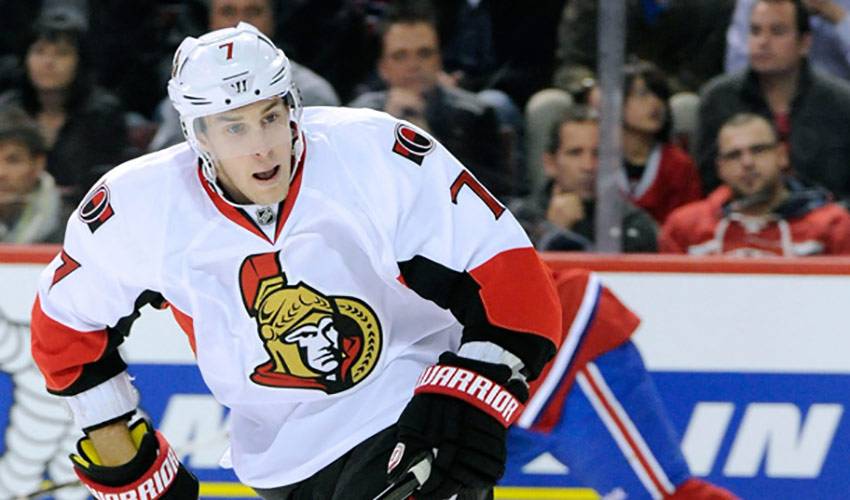 Although Kyle Turris makes no guarantee he'll be able to produce another outstanding four-point performance in the Stanley Cup Playoffs, the Ottawa forward is certainly showing he can deliver for the Senators.
With a playoff berth on the line and two of the team's top players not in the lineup, Turris and his teammates were hardly fazed when they travelled to New York to take on the Islanders for a critical contest.
The end result was an a authoritative 5-1 Ottawa victory, a win that secured a spot in the Eastern Conference post-season, highlighted by a four-point (two goals and two assists) game by Turris.
Turris and the Senators will now square-off against the New York Rangers, the No. 1 seed in the East.
"Well, I can't say for sure that I'll be able to do that again in the playoffs, but I wouldn't mind if that helped us win," laughed Turris, in an interview with NHLPA.com.
"But I know what I really want to do and that's just to try and help my team win. If I can get four points, that would be great. But if not, I want to be 75 per cent in the faceoff circle and work with my teammates to shut down the other team."
If it seems as though Turris, who was traded from the Phoenix Coyotes to the Ottawa Senators for David Rundblad and a second-round pick in the 2012 NHL Entry Draft on December 11, is a happy man these days, you'd certainly be right.
"It's just great, really," said the third overall selection of the Coyotes in the 2007 NHL Entry Draft, who scored his first NHL goal on October 12, 2008, a rebound tally in a 4-2 win versus the Anaheim Ducks.
"Everyone, including myself, is in a really good mood. To wake up the next day after our win in New York and know you made the playoffs, that just gets everyone more and more excited about things."
Turris, who notched an assist in his first game with Ottawa, a 4-1 victory over the Buffalo Sabres on December 20, is equally effusive about how the Senators, a pre-season longshot to make the playoffs, have banded together to net a shot at winning the Stanley Cup.
"What an amazing group of guys we have here," said the former British Columbia Hockey League (BCHL) standout, who scored 72 points in 57 games for the Burnaby Express in 2005–06 and was honoured with the Bruce Allison Memorial Trophy for the Coastal Conference as rookie of the year. "The chemistry is great, we have a lot of fun and everyone gives each other confidence. There's a lot of enthusiasm and excitement."
Turris, who played one season of U.S. collegiate hockey with the Wisconsin Badgers in 2007-08, praises several teammates for their leadership and on-ice skills.
"You look at people like Daniel Alfredsson, Jason Spezza, Milan Michalek and Eric Karlsson and how professional they are on and off the ice," said Turris, of the team's high-profile players. "They respect everyone on the team and recognize that everyone plays a part in our success. They are all extremely talented, but they make you feel like a big part of the team. You couldn't ask for better teammates."
With just four games of NHL playoff experience to date, Turris, who hails from New Westminster, British Columbia, is eagerly anticipating his first post-season as a member of the Senators.
"My confidence, it just keeps growing since I got here," offered the 22-year-old, who led Team Canada in scoring at the World Junior Championships in the Czech Republic en route to a gold medal in the 2008 tournament. "I have to admit I was nervous coming here, but everyone, the players and the coaches, made me feel so good. I was put in a good position from the day I came here. I wanted to contribute and I wanted to do what I could to help us earn a playoff spot. Now that it's happened, you can see just how enthusiastic the guys are. It's a great feeling."
He's hoping the good times don't end any time soon.
"I'm over the moon," said the 6'1", 190-pounder, who lists Hall of Fame standout Steve Yzerman as his favourite hockey player growing up "I felt that way the day I got to Ottawa and I still am over the moon to this day."