Jordin Tootoo – Speaking His Mind
Jordin recently visited a native community in Ontario to meet some fans and pass along a message of positivity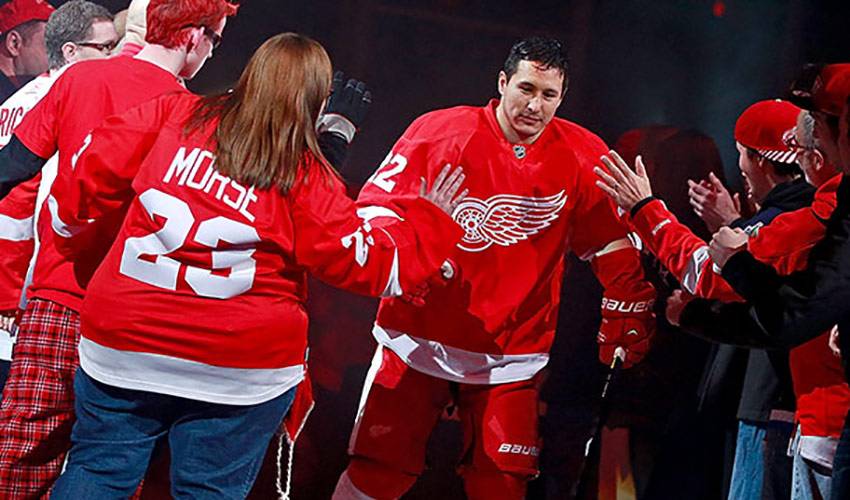 Jordin Tootoo has seen a lot in his journey from the northern Canadian territory of Nunavut to the bright lights of the NHL.
He has experienced both intense highs, as well as challenging lows. Through it all, he has maintained his focus on his goals, his dedication to his family and friends and his commitment to community, both in his adopted NHL cities, as well as his beloved hometown of Inuktitut.
Jordin has taken all of these experiences, along with his revered status in Native and Inuit communities around North America, and used them to provide a positive example to kids of what can be achieved when you follow your dreams. He also underscores how important it is to utilize the presence of family and community when things don't always go your way.
Through his Team Tootoo Fund (@TeamTootooFund), Jordin has established his approach to giving back to communities around North America. According to the Team Tootoo Fund website, "Among the wide range of charitable causes the Team Tootoo Fund will help support are nonprofits addressing suicide awareness and prevention, as well as nonprofits supporting children and teens in need."
Recently, Jordin travelled from Detroit, across the Canadian-border to the nearby native community of Walpole Island. He spoke to a large group of both children and adults at the local sports complex, and also posed for pictures and signed some autographs. The visit had an impact on both Jordin and the people of Walpole Island who declared the day 'Jordin Tootoo Day'.
RT Today Jordin Tootoo @jtootoo22 will be visiting the First Nations community on Wapole Island #GivingBack

— TeamTootooFund (@TeamTootooFund) April 23, 2013
Thank you Walpole Island for all your support.

— Jordin Tootoo (@Jtootoo22) April 24, 2013
RT Thank you Walpole Island for your hospitality #GivingBack #TeamTootoo

— TeamTootooFund (@TeamTootooFund) April 24, 2013
Went to walpole island today!!! @jtootoo22 did a speech and signed autographs!!!Love my bro. Always giving back! #teamtootoo

— Troy Aksalnik (@atuatjuaq) April 24, 2013
To learn more about the Team Tootoo Fund, visit The Community Foundation of Middle Tennessee
More information on Jordin's visit to Walpole Island is available at the Sarnia Observer