Celebrate Good Times
Andrew Shaw and the Blackhawks have had some epic wins this post-season and look to keep that going as the Stanley Cup Finals approach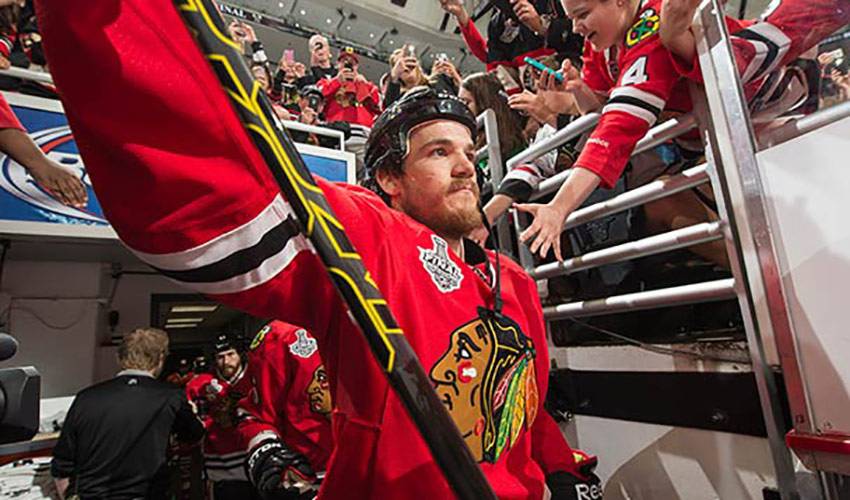 Andrew Shaw is an intense player, one who apparently doesn't mind messing up a teammate's face after a dramatic ending to a Stanley Cup playoff game.
When Brent Seabrook netted the Game Seven overtime-winning goal for the Chicago Blackhawks against the Detroit Red Wings in their Western Conference semifinal match-up, Shaw wanted to be one of the first to give the defenceman a little love.
Well, sort of.
"I think his face was a little sore after all the face rubs we gave him," Shaw told NHLPA.com. "We gave it to him pretty good. I don't think he minded though. It was a great moment for all of us."
The win didn't come without some tense times, however.
Chicago scored, or at least figured they did, with less than two minutes to go in the third period. Players exalted and fans rejoiced. But the celebratory mood quickly turned when the goal was disallowed due to offsetting minor penalties.
When the buzzer sounded with the teams deadlocked at 1-1, Shaw wasn't quite sure what the mood would be in the 'Hawks' dressing room.
"For a minute, it's a bit of a question mark as to what you'd be walking into," said the 21-year-old forward. "Obviously, it's deflating and disappointing."
What Shaw found, rather quickly, was anything but a downtrodden group.
"It was the exact opposite of what you might have thought," he noted. "Our veteran guys were upbeat and reminded us that we just needed to keep doing what we were doing. If we went out and showed the same energy, we could win it."
At 3:35 of the extra-frame, they did.
"Give Detroit a lot of credit," offered Shaw. "They had us down three games to one and didn't make it easy on us at any point in the series. But we believed we could fight our way back. We didn't panic. We just stayed focused."
They also showed why they finished the regular season with the most points of any team. After besting Minnesota and Detroit in the first two rounds, Chicago sent Los Angeles, last year's Stanley Cup champs, to the sidelines.
Now, they'll face the Boston Bruins, the 2011 Cup champs, in an Original Six final.
While there are endless amounts of motivation on both sides, Shaw and his teammates will be looking to make the most of their return trip, especially after being knocked out in the quarterfinals the two years following their Cup triumph.
"It's what you have always dreamed about," said Shaw. "The chance to play for that trophy."
As to how he'd celebrate a Cup win, Shaw has shown he also has a softer side when it comes to whooping it up after a big victory.
As a photo recently featured on the @NHLPA twitter account depicts, the rugged forward delivered a more subdued embrace to Patrick Kane when the latter scored the series overtime winner against the Kings.
"I guess it doesn't matter how you react," laughed Shaw. "As long as you get that chance, that's what's most important."