Scuderi Back In Pittsburgh
After four successful seasons with the Kings, Rob Scuderi returns to a strong team and familiar setting with the Penguins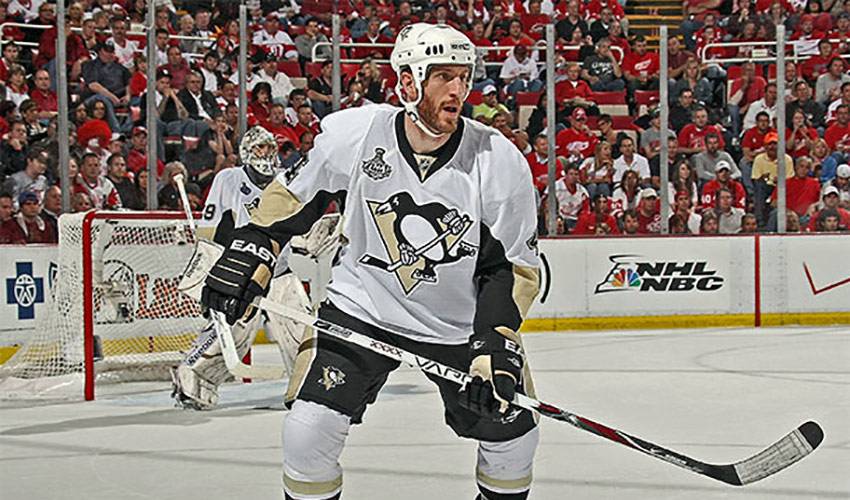 Rob Scuderi isn't looking to change anything about his game in his return to Pittsburgh. That's a very good thing.
Shortly after winning the Stanley Cup with the Penguins in 2009, Scuderi, one of hockey's most reliable shutdown defencemen, hit the free agency market with plenty of suitors lining up for his services.
It was the Los Angeles Kings who provided the perfect fit for the New York native, as Scuderi inked a four-year contract with the Western Conference club.
After four campaigns, including three consecutive seasons of appearing in every game, Scuderi, who won another Cup in 2012, is back on familiar ice.
"It's certainly an ideal situation in a lot of ways," said the 34-year-old, who signed a four-year contract with the Pens. "It was a great experience in L.A. and now I have the chance to come back to a place I know well."
And while there have been new arrivals and some departures to the Pittsburgh lineup in his time away from the club, Scuderi, who was drafted 134th overall by the Penguins in 1998, isn't worried about fitting in.
"I probably know half or more of the guys from when I was there before and it won't take long to get to know the players that weren't there when I was in the lineup," offered the veteran of nearly 600 NHL regular season games. "It's a good fit all-round."
Although he didn't face the Penguins a great deal during his tenure with the Kings, there was one thing in particular that struck Scuderi when the teams met.
"It's natural to be very aware of what guys like Sid and Evgeni are capable of," said Scuderi, in reference to the dynamic duo of Sidney Crosby and Evgeni Malkin. "I had first-hand knowledge of that during practices. But, I think what really stood out for me when we went up against them was just how well they played as a team. There was a cohesiveness that you couldn't help but notice."
Scuderi will help anchor an impressive defensive corps that features Kris Letang, Brooks Orpik, Paul Martin and Matt Niskanen.
"My main objective is to just to be myself and bring a consistency to every game," noted the Boston college alumnus.
Does that mean no end-to-end rushes?
"Probably not," he laughed. "Rob Scuderi on the first power-play unit? I'm guessing not."
While his style isn't flashy, Scuderi's stay-at-home style will no doubt be a valuable commodity for a Pittsburgh team eager to erase the memories of a four-game sweep to the Boston Bruins in the 2012-13 Eastern Conference finals.
Having the first Long Island native to have his name etched on the Stanley Cup will certainly aid their chances.
"No matter what you want to achieve on a personal level, it's always about raising that trophy," said Scuderi. "I've been fortunate to have done that twice."