Del Zotto Inspired For More
Michael Del Zotto & the Rangers are using the disappointment of 2013 as they prepare for the upcoming season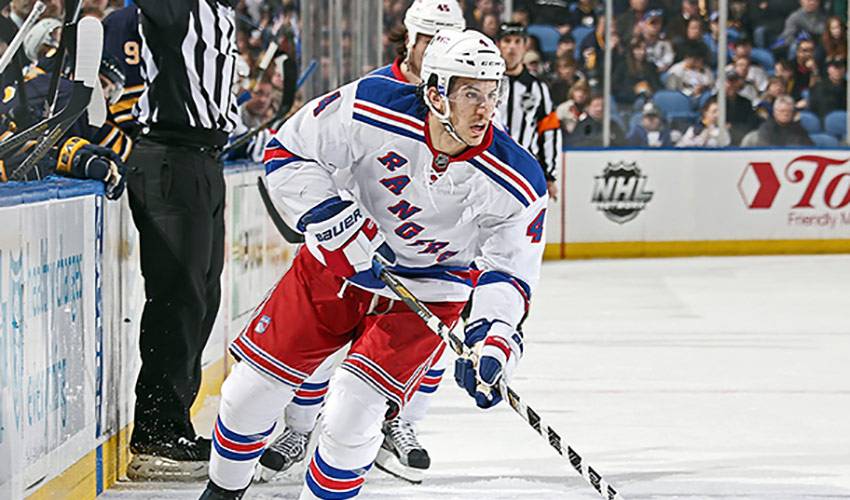 Watching another group of players celebrate a Stanley Cup victory doesn't exactly sound like an ideal way to kick-start your NHL career. But for Michael Del Zotto, it was an inspiring scene.
Never mind he was about to face-off against some of the league's top stars. Or that it was on their home ice. Or that it was the night the Pittsburgh Penguins were raising their 2009 championship banner in front of an amped up crowd.
As far as first big-league games go, the teenager from Stouffville, Ontario couldn't have skated into a tougher one.
"Exactly what I was thinking," recalled Del Zotto, the New York Rangers' defenceman, in reference to his milestone moment on October 2, 2009. "You're nervous enough as it is. You're going up against Sidney Crosby, Evgeni Malkin and one of the best teams in the game.
"And then you see that banner start rising," he continued. "All your life, that's what you dream of, seeing that go up to the rafters as you watch it with your teammates. The start of the game, it was a little intimidating at first."
But certainly not for long.
"As soon as I watched it go up, I found it inspiring, to be honest," said Del Zotto, who scored his first NHL goal the next night against the Ottawa Senators. "You play to be that team."
Two seasons ago, the Rangers almost were that team. The four-time champions made it all the way to the Eastern Conference final, but were ousted in six games by their rival, the New Jersey Devils.
Last year, it was a far less memorable ending to their campaign, a five-game loss in the semis at the hands of the Boston Bruins.
"The motivation is absolutely there for all of us," said the 23-year-old. "We wanted to build on what we accomplished in 2011-12 and for some reason, it didn't pan out as we wanted it to. It was very disappointing, to say the least."
Del Zotto sees plenty of reason for optimism in 2013-14.
"Obviously, we have one of the greatest goalies in the world in 'Hank,'" said Del Zotto, in reference to Henrik Lundqvist. "But when you look on paper, look at our roster, you see a lot of talent at every position. We were all disappointed at how things finished last year and that's something we can use to motivate us when this season starts."
There's no doubt No. 4 is ready.
"To have played 250 games, it really has flown by," said the 20th overall pick in 2008. "I'm no longer the young guy and some might say I'm getting into that veteran-type territory. Regardless, I just want to be a consistent player over 82 games."
And if everything goes their way, it could be the Blueshirts turn for a banner year on Broadway.