Great Memories & New Beginnings
Opening night of the 2013-14 NHL season is here & Andrew Shaw gives some insight into the Hawks' Cup run and the promise of the new season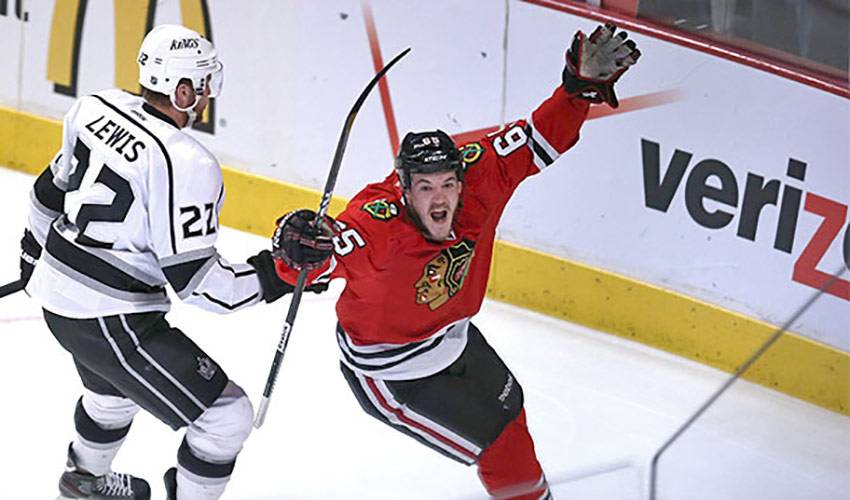 The 2013-14 NHL season gets underway tonight and the players are primed and ready to take the ice.
Three games kick things off: an Original Six clash featuring Toronto at Montreal, Winnipeg at Edmonton and Washington at Chicago.
Andrew Shaw, who helped play a pivotal role in the Blackhawks' 2013 Stanley Cup championship, spoke with NHLPA.com the day before their first game of the campaign.
The 22-year-old talks about winning hockey's top team honour, his teammates, what he did with his playoff stitches and what it will take to win back-to-back titles.
And don't forget to visit NHLPA.com throughout the season for profiles of your favourite NHL players, cool charitable and community initiatives, as well as coverage of the 2013-14 season.
Diary of a Stanley Cup Champion: ANDREW SHAW
"There's no way to really describe the actual moment you win the Stanley Cup. To know that you all worked together towards that one goal, to go through the ups and downs, and win it all is an amazing feeling. One of the most special parts of winning the Cup is getting to share it with your friends, family and the fans. For me, having the Cup and seeing the joy and how happy my family was is something I'll never forget. They were always there for me and you could see what it meant for them.
" I ended up donating some stitches I got in the playoffs to a breast cancer charity. My mom (Darlene) was diagnosed with it last September, but she is doing well and is back at work. She's actually in town now with me and she'll be at the first game. It's been great having her here. She's cooking a nice roast for us. I'll never complan about a nice home-cooked meal.
"I think it hit me with a week left in the summer – it's time to get down to business again and work towards winning it all again. We have such a great team in so many ways. And the vibe in the dressing room is that even though the off-season went quickly, everyone came back committed to repeating as champions. If I had one word to describe our team, I'd use character. Everyone works hard to play their part for the success of the team.
"Winning the Stanley Cup is one of the toughest accomplishments in sports. And to do it twice in a row is a big challenge. One of the things we've already talked about before the first game is that we can't do anything but take it game by game. There are so many good teams, it's a long season, and you can't allow yourself to look too far ahead.
"Opening night is always exciting. I know the guys are ready to get going and I'm sure the fans are looking forward to it, too. Hopefully, we are able to do what we did last year. We have to close off one chapter and start a new one now.'
For more on Andrew Shaw, visit his player page by clicking here.