Lest We Forget
As we mark Remembrance/Veterans Day, NHLPA members show their respect & gratitude to the men & women who serve our nations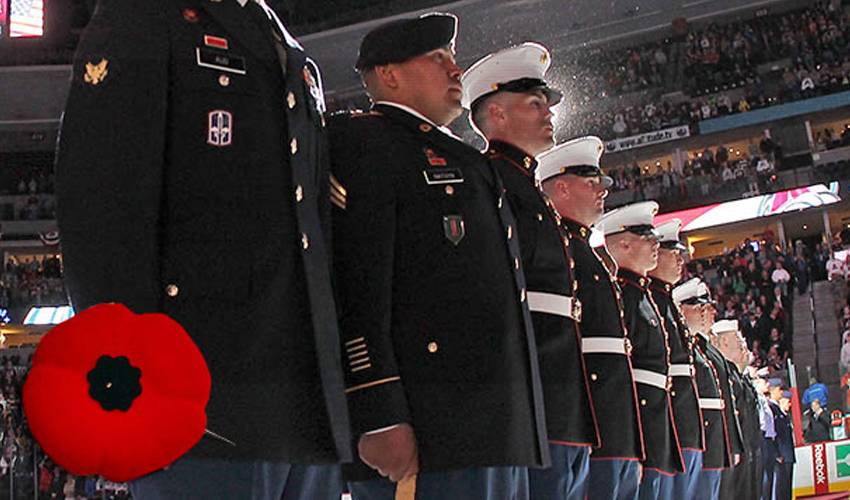 "Everything we have, everything we do, is because of what they have done for us." Ryan Suter.
In the days leading up to November 11, the date on which members of the armed forces, past and present, are acknowledged around the world, Suter, along with many of his NHL brethren, took pause to honour those who died in the line of duty and recognize those who served and serve their countries.
"When you step back for a moment and realize what these people have done for us, it puts everything in life in perspective," said Suter, one of several NHLPA members who support Defending the Blueline, an organization whose mission is to ensure children of military members are afforded the opportunity to participate play hockey. "For me, it's always special to meet the troops, to say thank you and to tell them how appreciative we are."
Suter's heartfelt words are a poignant reminder of the relationship between the military and several NHL players, a list that includes Joffrey Lupul, Luke Schenn, Ryan Kesler, Brent Burns, David Backes, Josh Harding, James van Riemsdyk, Zach Parise, George Parros and Eric Boulton.
Hope everyone takes a minute to think about our troops and what they have sacrificed, so we can live the way do. @LupesTroops

— Joffrey Lupul (@JLupul) November 11, 2013
"I've met Army Rangers, Navy Seals and so many others," said the Minnesota Wild defenceman. "You have to remind yourself of exactly what they are tasked with doing. Everything they do is to protect us. As athletes, we get attention, but they are unsung heroes and deserve our utmost gratitude."
Suter was reminded of that when he met a Medal of Honor (the United States highest military honor, awarded for personal acts of valor above and beyond the call of duty) recipient.
"It was very humbling," said Suter. "There are a lot of things you take away from the times you meet these people. They are down-to-earth and always ask a lot of questions about our lives, about hockey. But I'm the one who is always like that so-called kid in the candy store. I have the greatest respect for who they are and what they do."
Matt Hendricks, who has played in over 275 NHL regular season games, and is in his first season with Nashville, is a huge supporter of the military.
In 2012, he received an invitation to be part of the USO Holiday Tour, an event that brings singers, actors, actresses, comedians, athletes and others overseas to visit the troops.
Hendricks' trip included visits in Bahrain, Kyrgyzstan, and Kandahar airfields in Afghanistan and two stops in Germany.
"We're all thankful for what they have done and for what they do," said Hendricks. "It's been eye-opening for me in so many ways. When you have the opportunity to meet them, you always want to ask so much. But they want to know all about you. They'll ask questions like, 'Who is your favourite player? Who is the toughest guy to play against?' It speaks to how genuine and humble they are. The biggest thing for me is to always shake their hands and say thank you."
There have also been countless contributions from players that don't always grab the headlines.
When Shane Hudella, who founded Defending The Blue Line in 2009, recently reached out to Paul Martin for some assistance, the Pittsburgh defenceman went far and above what he anticipated.
"I found out a Marine in our program was heading back home from overseas for his father's funeral," recalled Hudella, who was on active duty for the Minnesota Army National Guard and was deployed for Operation Desert Storm in 1990. "It's tough enough to be away serving, but then to lose a loved one during the process is just unimaginable. I contacted Paul. He not only took care of hockey tickets for the family when they were back for the services, but met with them after the game and treated them to a locker room tour. I can't explain how special it made them and their kids feel."
There will be another such scene on Monday in Minnesota, courtesy of the NHLPA's Goals & Dreams fund.
Players from the Minnesota Wild will participate in an outdoor hockey clinic for 50 special military children at the Guidant John Rose Oval in Roseville.
Goals & Dreams will donate 25 sets of brand new hockey equipment to the military youth supported by Defending The Blue Line. Goals & Dreams has donated 300 complete sets of gear to the organization over the last three years.
Proud to partner with @NHLPA Goals & Dreams and donate 25 sets of new gear to @DTBL. Remembering our veterans #ThankOurVeterans

— Matt Hendricks (@MattHendy26) November 11, 2013
"This exemplifies everything the players mean to our organization," offered Hudella. "Not only spending quality one on one time with the kids to give them that star-power experience and personal encouragement, but also the extreme generosity on the back end by donating the gear to these little heroes. Equipment is the lifeblood of hockey for these youth, and through the enormous gift of the Goals & Dreams donation, we're able to outfit military kids here in Minnesota, and all across North America."
It's one more reason to put a smile on the faces of the players who support the military.
"I have the utmost respect for these people who are genuine heroes," said Suter. "We owe them so much gratitude for what they have done and what they continue to do for us."