Kings Not In Jeopardy With Scrivens
Ben Scrivens is almost as good at answering questions when watching Jeopardy as he is at keeping pucks out of the Kings net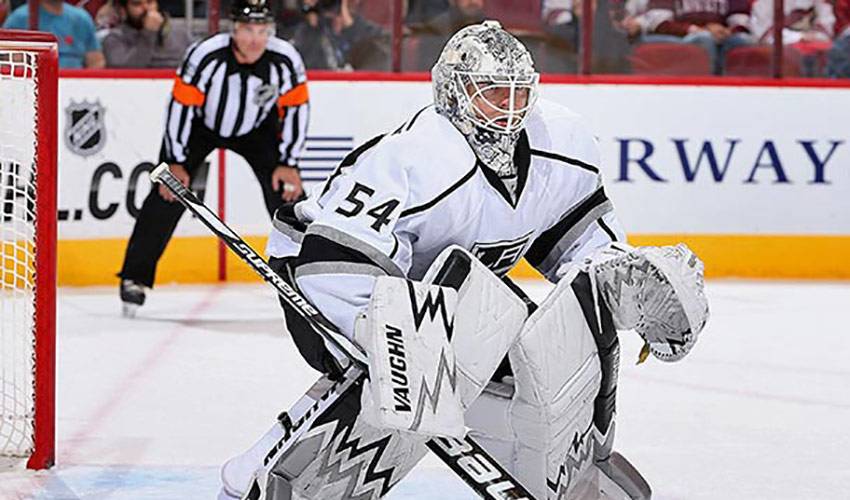 Here's a Jeopardy! answer the hockey world would appreciate: He's a goalie that recently strung together back-to-back shutouts, loves this show and recently met Breaking Bad star Bryan Cranston. The question: Who is Ben Scrivens?
He's put an exclamation point on his game in 2013-14, delivering king-sized performances for the Los Angeles Kings, including consecutive clean sheets on November 15 and 17.
While he might need some convincing to test out his game-show savvy on Jeopardy!, Scrivens is as confident as ever between the pipes these days.
And for good reason.
He was named NHL first star of the week on November 18 after posting a 3-0-1 record. Scrivens fashioned a 0.66 goals-against average and .977 save percentage over the four-game stretch.
As for those blankings against New Jersey and the New York Rangers, Scrivens insists they were anything but one-man shows.
"Shutouts are a team accomplishment," Scrivens told NHLPA.com. "You need help in a variety of ways to get them. It's sound defensive play, guys blocking shots, those types of things that determine a shutout."
A little luck doesn't hurt either.
"A fortuitous bounce, a shot that hits the post or crossbar and stays out, a little bit of everything needs to go your way," said the 27-year-old.
"You don't always have to make those so-called big saves," continued Scrivens. "You can't force things. You have to let the puck come to you and react accordingly. I think that puts you in a good spot, mentally. If you try and go for that big windmill glove save, the puck might end up going low on the blocker side."
There's no arguing Scrivens has found a winning formula.
"If I start thinking about a shutout in the second period, I'm behind the eight-ball, mentally," he offered. "I look at things shot-by-shot. But that takes experience and time at this level. I still have a lot to learn."
Scrivens was well aware of one inevitably after his second shutout: he was going to get scored on at some point.
His streak ended at 191 minutes and 19 seconds in a 5-2 home win over the Tampa Bay Lightning on November 19.
Even in defeat, Scrivens has looked impressive. He made 32 saves, turning aside several big chances in the second period, in a 1-0 in overtime loss to Colorado on Saturday night.
"You try and push shutouts out of your head soon after the game is done," said Scrivens, who came to the Kings with Matt Frattin in a trade that saw fellow backstopper Jonathan Bernier come to the Toronto Maple Leafs in June. "If that's what you're thinking of when the puck drops, you're in a whole lot of trouble."
Scrivens has little to be troubled by these days, both on and off the ice.
The native of Spruce Grove, Alberta, along with his wife, Jenny, are enjoying the abundance of offerings in Los Angeles.
"The fans and my teammates have been so welcoming," noted Scrivens. "There are so many great things to see and do here. It was really cool to meet Bryan Cranston, who came to our last home game before we went out on the road. Hopefully, I'll get the chance soon to visit some of the museums, the zoo and other interesting places here."
And what about a guest appearance on Jeopardy!?
"I don't think so," Scrivens said with a laugh. "I wouldn't want to embarrass myself. Well, maybe I could just stand there and not hit the buzzer."
Ben Scrivens shut out? Not a chance with those reflexes.
Photo credit: Getty Images Sport