Home For The Holidays
With the holiday season upon us, Players from around the league discuss their family holiday traditions.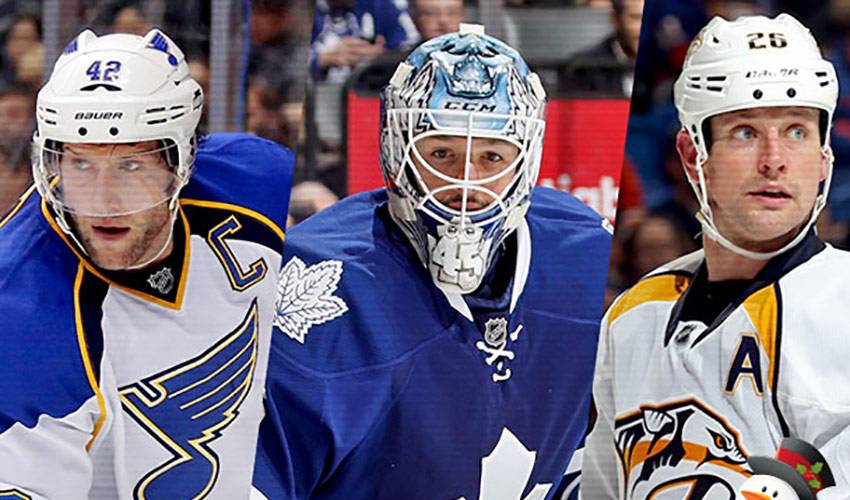 Before they skated in their final games before a short, but welcome Christmas break, players and their families from around the league shared their Holiday memories with NHLPA.com.
On December 23, 28 teams will take to the ice across North America, the final eve of hockey until the season winds up again four days later.
Whether it's talking about their favourite recollections of Christmases past, hockey-themed presents, or upcoming holiday plans, the players are full of good cheer.
It's been quite a busy, but rewarding year for David Backes and his wife, Kelly. The St. Louis captain, who was recently sidelined with an injury, has been a key factor in the Blues strong showing so far in 2013-14.
When he's not leading the charge on the ice, David, along with Kelly, are making their mark in the community through their Athletes for Animal foundation.
They'll be heading back to the Gopher State for a visit over the holidays.
"Christmas season to us is all about being present," said Kelly. "Since joining the NHL, every year we still make the trip back home to Minnesota and spend Christmas with family and friends. It's about being with those you love the most and giving acknowledgment to the real meaning of Christmas."
Veteran goalie Jean-Sebastien Giguere remembers receiving several hockey-related gifts for Christmas during his childhood years.
There was one present in particular, however, that stands out above all the others, a hockey net purchased by his godparents.
"I probably used it for 10 years," said the Colorado backstopper. "It was the best gift ever. I played hockey all the time. There was a park close to the house where they would make a rink in the winter. All the kids would be out there playing."
Earlier this year, another goalie, Toronto's Jonathan Bernier, told NHLPA.com about a Christmas gift no netminder would ever want to unwrap.
A 2004 Quebec Major Junior Hockey League game between the Lewiston Maineiacs, with Bernier in net, and the Halifax Mooseheads, with older brother Marc-André Bernier playing right wing, produced an interesting moment.
After turning back a shot on a partial breakaway, the rebound was fired past him by none other than Marc-André.
"He didn't rub it in then, but I saw him scoop the puck up after he scored," recalled Jonathan.
As for what happened to that vulcanized rubber disc, Jonathan would soon find out.
"On Christmas, I open a present from him and there it is, the puck he scored on me with," laughed Jonathan. "He got me good."
Tomas Tatar doesn't have a similar story of brotherly love, so to speak, but he is thrilled about a family reunion in Michigan.
The Detroit forward, who was part of Slovakia's silver medal-winning side at the 2012 World Championships, will have some special fans in the stands when the Red Wings host the Maple Leafs in the 2014 Winter Classic on January 1.
"Obviously, what you miss the most around the holidays are your friends and family," said Tatar, who recently turned 23. "This year, I'm very happy that my family is here in Detroit to spend the holidays and to see the Winter Classic game."
Tatar had been counting down the days until his family arrived from Europe.
"It's such a great time of the year and to know I'll be spending it with my family is amazing," he said.
When it comes to giving, Curtis and Tanya Glencross are only too happy to lend their time and support to several causes.
Whether it's meeting with seriously sick children, hosting a charity rodeo in the summer, or giving deserving kids a shot to play hockey, the couple continue to work overtime with their charitable endeavors.
It's the little gestures, noted Tanya, which can have the strongest impact, especially over the holiday season.
"Smiles are everywhere when we put our hearts together and make a difference in anyone's life," offered Tanya. "Everyone you know is fighting a battle you know nothing about. Be kind always and just make someone smile, it could go a long ways."
He might be wearing Anaheim Ducks colours these days, but there was a time when Nick Bonino was all about the white, green and blue. And red and white.
Growing up in Connecticut, the forward, in the midst of his best NHL season, always kept tabs on the Hartford Whalers. But he also happened to be a huge fan of the Detroit Red Wings.
Come Christmas, Bonino opened plenty of hockey presents.
"I was definitely a big Whalers fan," he recalled. "I had a lot of their merchandise. But I was a big supporter of the Red Wings, even more so after the Hartford franchise moved to Carolina in 1997. I was definitely a hockey guy, even back in those days."
In 2012, Matt Hendricks brought some festive cheer, hockey-style, when he was asked to take part in the USO Holiday Tour, an event that invites athletes, actors, actresses, singers and others overseas to spend time with military personnel.
The Nashville forward, whose father is a former Marine, spent a week meeting and speaking with the troops in places like Bahrain, Kyrgyzstan, and Kandahar airfields in Afghanistan, along with two stops in Germany.
"It was really a humbling and rewarding experience," said Hendricks. "They deal with stresses and hardships none of us could ever imagine. And for them to be away from their homes and family over the holidays, it's not an easy life in any way. It was an ideal opportunity, especially at that time of the year, to let them know you are grateful for everything they do."
From all NHLPA members, Happy Holidays to you and yours.