The Long Road For Reaves
Ryan Reaves has worked his way up through the ranks to realize his dream of being a full-time NHL player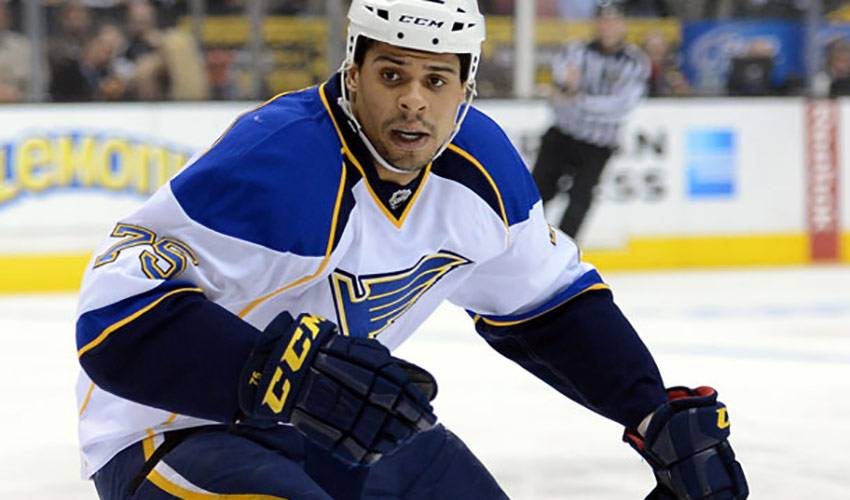 Ryan Reaves likes to be where the action is. And with the way he's been playing, the rugged St. Louis forward, who recently signed a four-year contract extension with the Blues, is getting just what he hoped for.
It's no stretch to say it took a long while for Reaves to get to this point, a time where he is looked upon as a "well-rounded player." It's the term Blues general manager Doug Armstrong used when he announced the right-winger inked his new deal on January 11.
"It's been a long road to get here," said Reaves, who was drafted 156th overall in 2005. "At some point, I can't quite remember the exact moment, you realize it's boring being on the bench and not being out there competing."
The former Brandon Wheat Kings product (he played three seasons with the Western Hockey League club) skated in parts of four campaigns with the Peoria Rivermen of the American Hockey League, starting in 2007-08.
His first NHL appearance came on October 11, 2010. Reaves made his presence known by racking up 15 minutes in that game against Anaheim, scoring his first goal the following January against the very same opponent.
Injecting toughness and grit into the Blues lineup, Reaves, the son of former NFL and CFL running back Willard Reaves, has appeared in nearly 160 NHL games.
He'll proudly, but not boastfully, tell you he's playing the best hockey of his big-league life these days.
"I went from healthy scratches and four or five minutes a game to an increased role now," offered Reaves. "Playing in Peoria really helped me with my game, to understand what I needed to do to get better. And here, with St. Louis, I've really listened to what the coaches have had to share with me about improving my game."
The moment he felt things had finally come together for him?
"It was a game against Calgary last season," noted Reaves, of the 4-1 home win on April 25. "I scored two goals, about five or six hits and had a fight. On paper, that was my best NHL game. It felt good."
So, too, did the reaction of his teammates when he was sidelined for 17 games with a broken hand earlier this season.
"I got a lot of texts and calls from the guys," recalled the Winnipeg-born forward. "They told ne they missed me out there and they wanted me back out there as soon as possible. That's the way everybody is on this team. There's a lot of support."
And plenty of reason for the 6'1", 225-pounder to be optimistic.
"The more I'm able to play, the more confidence I have. It's a great feeling."
A feeling Ryan Reaves never wants to lose.