Down But Not Out
Charlie Coyle and the Wild are focused on getting back into their opening-round series by playing the right way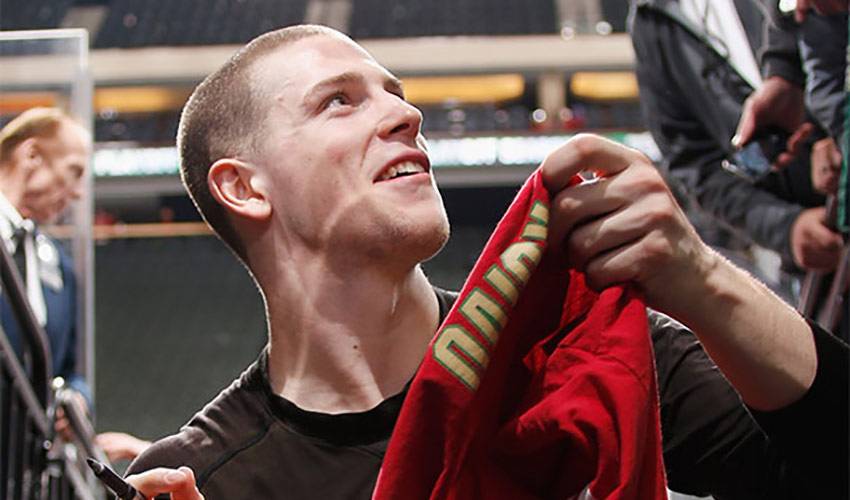 Though they punched their ticket to this season's playoffs two periods into a game on April 8th against the Boston Bruins, for Charlie Coyle and his Wild teammates, it was all about going into the post-season as they put it, "the right way."
Moments before the puck was about drop on the third period of Minnesota's home tilt against league heavyweights Boston, the overtime loss by Phoenix that guaranteed a playoff berth for the Wild was announced to an appreciative crowd.
Coyle and co., although thrilled with the news, felt an obligation to put an exclamation point on the proceedings.
"Obviously, you are ecstatic that you'll be one of the teams with a shot to win the Stanley Cup," said the 22-year-old forward. "Our first goal was to get into the playoffs. But, after we found out we were in, we talked about doing it the right way, to go out in the third and get that win."
And that's precisely what they went out and did.
Down 3-2, Ryan Suter scored with 1:05 left on the clock. After a scoreless overtime, Minnesota captain Mikko Koivu delivered the only shootout goal in the 4-3 victory.
How's that for doing it the right way?
"It was awesome," recalled Coyle, in his second NHL season. "It was a very cool feeling. We were down, came back late and then won it in dramatic fashion. To see everyone so excited was great."
Excited, yes. But, not fully satisfied.
"You want to get the highest seed you possibly can," said Coyle, who had 12 goals and 30 points in 70 games this season. "You want to be playing your best hockey heading into it. In some ways, it's like the entire season. You win a game, you enjoy it for that night. You lose a game, it bothers you for a night. Regardless of what happens, you have to refocus on the next challenge."
That challenge comes in the form of the Colorado Avalanche, Minnesota's opponent in the first round of the Western Conference quarterfinals.
In five regular season matchups in 2013-14, the Avs came out on top four times. All were close, with two decided in a shootout.
The Wild notched a crucial 1-0 overtime victory in Game Three of their opening round series against Colorado. This leaves them trailing 2-1 with Game Four set to go in Minnesota on Thursday.
"Everything is magnified," said Coyle, who has a pair of goals heading into game three. "It's tough to keep hockey from being on your mind because it's what we love to do. You have to try and turn your mind off when you are away from the rink."
When it comes to playing, however, Coyle and the Wild like to go about their business as they say, "the right way."