Down But Never Out
Through never accepting defeat Jake Muzzin and the Kings have overcome deficits big and small throughout the 2014 playoffs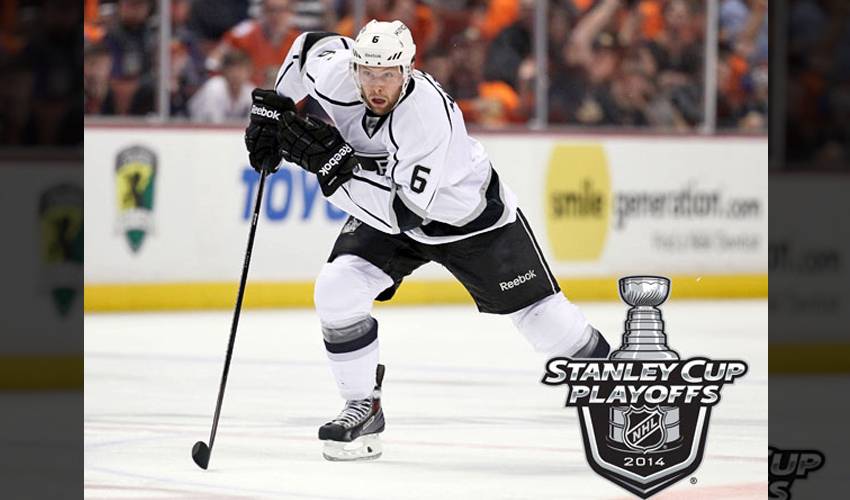 For most teams, daunting playoff deficits typically end in defeat. For Jake Muzzin and his Los Angeles teammates, that's when they are at the top of their game.
Down three games to state rival San Jose in the first round of the 2014 Stanley Cup playoffs. Then, down three games to two against another state rival, Anaheim, in the second round.
Down, but if you happen to be wearing the white, silver and black of the Kings, never out.
Muzzin, who has delivered both offensively and defensively as a member of the Kings blueline corps, knows there's no need to press the panic button when elimination is staring you in the face.
"We have a group of guys here who have been through the grind of the playoffs and know what it takes in the big games to perform and win," said the 25-year-old Muzzin. "The experience and belief of this group allows us to stay calm and focused throughout the playoffs."
It's a luxury that has enabled the Kings to reach the Western Conference finals. After two games, the series is knotted at one game apiece, with Muzzin scoring the game-winning tally (he was a +2, blocked a team-best four shots and had 21:46 of ice time) in a 6-2, come-from-behind win in Chicago on Wednesday night.
The native of Woodstock, Ontario, has been solid at both ends of the rink in the post-season. He scored the opening goal in an eventual 2-1 win over the Ducks in Game 6, a stellar showing after the defenceman heaped blame on himself after the first Anaheim tally in a 4-3, Game 5 loss.
While the self-criticism wasn't warranted – Muzzin had an assist and was steady over the 25-plus minutes he played – it was symbolic of a group that has high expectations for success and zero tolerance for failure.
For the Kings, holding court is all that matters.
"To reach our goal, we will have to play our best hockey," said Muzzin, who has four goals and eight points in 16 playoff games this year. "We need everyone for a full 60 minutes, or longer."
Last season, Muzzin appeared in 17 playoff games, contributing three assists as Los Angeles bowed out to eventual Cup champion Chicago in five games.
Motivation is hardly an issue this time around.
"We need to work hard, believe we can do it and then just go out and play," said Muzzin.