Family Matters For The Sedins
Daniel & Henrik, together with their wives Marinette and Johanna, have created the Sedin Family Foundation in support of families & children in British Columbia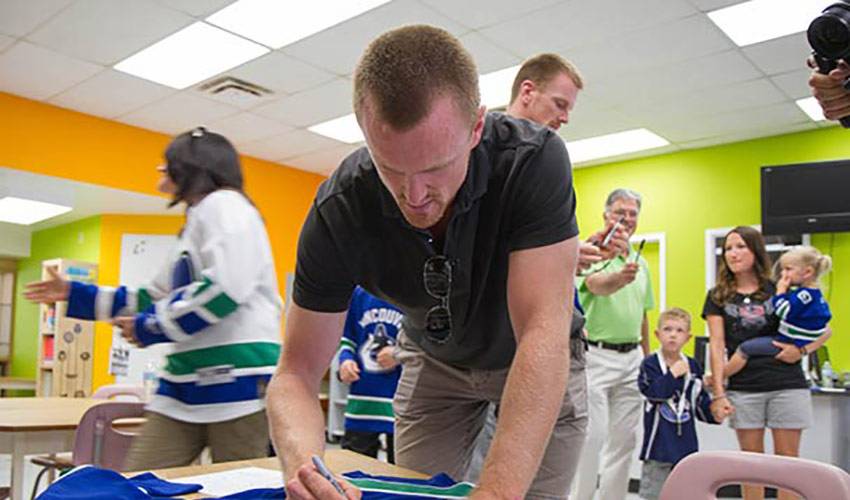 Daniel and Henrik Sedin have earned a reputation as two of the most unselfish players in hockey. It's a trait that also extends well beyond NHL arenas.
With a combined 1,147 assists, the Sedin twins, who have played their entire 13-season careers with the Vancouver Canucks, understand the significance of what it means to be a team player.
They also apply that same philosophy to their community.
On September 13, Daniel and Henrik, together with their wives Marinette and Johanna, announced the creation of the Sedin Family Foundation. The Foundation will partner with local communities across British Columbia to celebrate people, recognize achievement and address the needs of families and children.
The Sedin Family Foundation works with schools, community groups and social service agencies to identify needs and find creative and unique ways to make a difference for children and families in health, education and family wellness throughout the province.
The Foundation's inaugural community gifts in the Fraser Valley will benefit Kent Elementary School, the Kent Community Recreation and Cultural Centre and the Mission Possible Cycling Program.
"We love living and playing hockey in Vancouver. Johanna and I are very happy to help the kids and families of British Columbia through our new Foundation," said Henrik, who has appeared in 1,010 NHL games since being drafted 3rd overall by the Canucks in 1999.
"Community centres and schools are the heart of a community," said Daniel, a veteran of 979 NHL games, who was selected second overall by Vancouver the same year. "Marinette and I hope that our family's contribution will provide many hours of fun and healthy activity for the community."
Kent Elementary School principal, Stan Watchorn, is grateful for what the Foundation will afford others.
"The positive impact that Henrik and Daniel and their families have had on our students and our entire community by building this playground is incredible," said Watchorn. "This playground will be a gathering place for children and families in our community for many years to come."
The Sedin Family Foundation has also provided equipment for the new gymnasium at the Kent Community Recreation and Cultural Centre. The equipment supplied by the Sedin Family Foundation will help provide programming for all ages at the Centre.
"We cannot thank the Sedin Family Foundation enough for their generosity and investment in our community," said John van Laerhoven, Mayor of Agassiz.
The Sedins visited with families at the new Kent Elementary School playground in Agassiz, as well as visited and played a floor hockey game at the Kent Community Recreation and Cultural Centre.
Youth from Mission, B.C., who are part of a Mission Possible Cycling Program also met with the Sedins, who provided mountain bikes for the program, in Agassiz.
It's not the first time the Sedins have made a significant off-ice contribution.
In 2010, Daniel and Henrik donated $1.5 million to help build a new BC Children's Hospital.
The pair made their gift in support of the hospital's Campaign for BC Children, specifically to the intensive care unit and diagnostics and imaging area.
For more on the Foundation, visit http://sedinfamilyfoundation.org.