A New Chapter For Hiller
After becoming a father for the first time this summer, the Swiss goaltender is now focusing on his job between the pipes in Calgary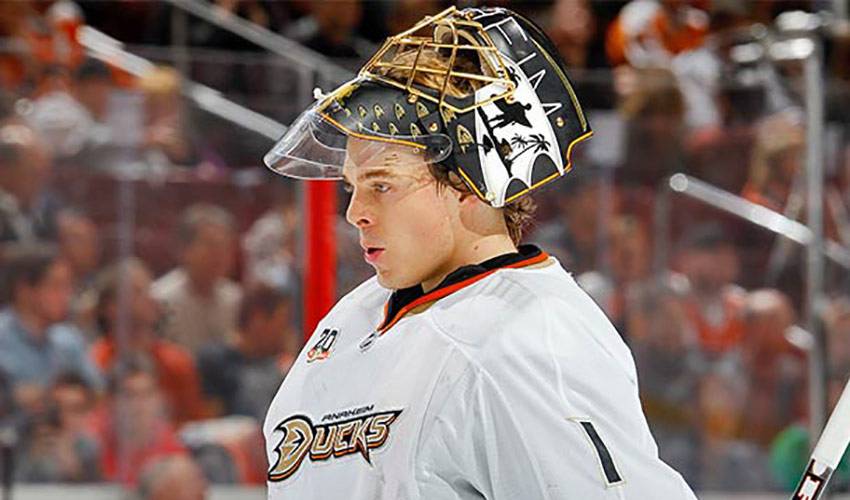 Jonas Hiller might not have been the star of the show in his native Switzerland over the summer, but the goaltender will certainly be in the spotlight between the pipes for the Flames this season.
While he'll have plenty of eyes on him once the 2014-15 NHL regular season starts, that wasn't the case for Hiller, who signed a two-year free agent deal with Calgary on July 1, before he laced up his skates for training camp.
"My wife (Karolina) and I had our first baby, so that was definitely the highlight of the summer," said Hiller, of the birth of his daughter, Noelia. "We saw a lot of family and friends, but they wanted to see the baby, not us."
The veteran of 326 big-league games didn't mind playing second fiddle.
"Not at all," laughed Hiller, who also attended two summer weddings, including his brother Simon's. "Everyone is very excited and you can see how happy they are for us. She's just great. She's pretty calm and she's handling everything well."
The same can also be said of Hiller, who is continuing to get used to his new life in Calgary.
"Seven years ago, I was starting out in Anaheim, and now it's a new chapter here," said the undrafted backstopper, who made his NHL debut a winning one on September 30, 2007. "You have to get used to new things, changes, but everyone has been great to me. It's been really good so far. Sometimes, you need some help, you have questions, but the guys have been awesome."
Despite another solid campaign in 2013-14, one in which he recorded 29 wins and five shutouts in 50 starts, Hiller didn't expect to be back with the Ducks this season.
He didn't let the uncertainty get to him during his time in picturesque Bern, his off-season home that's about an hour and a half drive from Zurich.
"I wanted to focus on what was coming up," admitted Hiller. "I knew I wasn't likely going to be back with Anaheim, so I just set my mind on the things I could control."
The 32-year-old made the most of Bern's stunning scenery.
"I didn't have a lot of time for my hobbies, but I was still able to play some tennis and squash, which I use as part of my workout routine. I also did a lot of mountain biking. I don't like the stationary bike, so I got outside as much as I could. I love being on the water, too, swimming or sailing. You can just put your mind at ease and enjoy the surroundings."
Now, Hiller is zoned-in on making his first season in Calgary a winning one.
"This is a much younger group than in Anaheim," he noted. "I guess at 32, I'm one of the veterans. But, you can see how determined everyone is, and what they want to accomplish. It's been fun so far."
He's hoping it only gets better.