Hockey Night in Switzerland
Jonas Hiller discusses the large Swiss contingent in the Flames & Canucks opening round series and the attention it's getting back home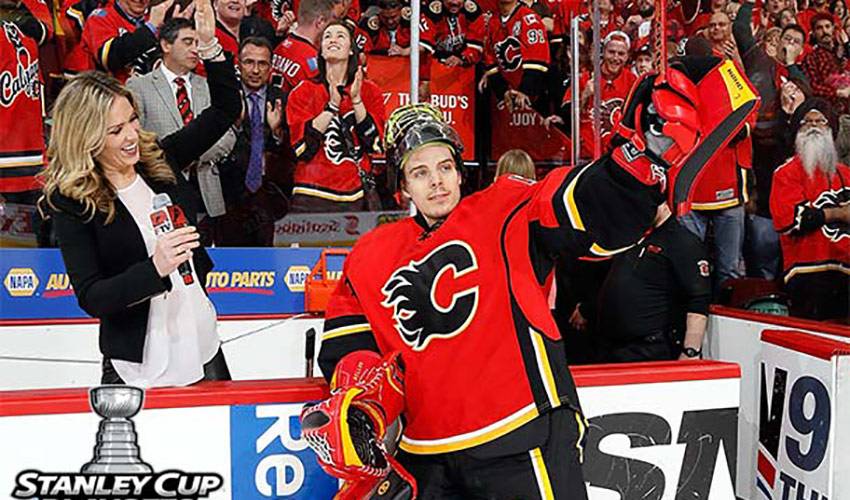 His stellar play between the pipes and a compelling Stanley Cup chase are keeping people up into the early morning hours in his native Switzerland. Jonas Hiller hopes that doesn't change any time soon.
After an emotional on-ice celebration in front of a raucous Calgary home crowd, in what was a hard-fought victory over the defending Cup champion Los Angeles Kings on April 9, Hiller (who stopped 33 of 34 shots) and his teammates headed back to the dressing room to continue the festivities.
When he had the first chance to check his cell phone, Hiller chuckled, momentarily taken aback by the number of congratulatory messages people had left for the Flames' No. 1 goaltender.
Hiller hadn't expected such an immediate reaction from friends and family back in Switzerland considering there's an eight-hour time difference.
"After that that L.A. game, I had at lest 20 text messages on my phone, most of them from people that were actually up at 3 a.m. in Switzerland to watch the game and had to go to work that morning," said Hiller, who hails from Felben Wellhausen. "Now, everybody is excited about the matchup between the Swiss players in Vancouver and the ones in Calgary."
The Canucks and Flames will renew their rivalry in the first-round of the Western Conference playoffs. Hiller and Raphael Diaz (who played six games with Vancouver) represent Calgary's Swiss connection, while Yannick Weber, former Flame Sven Baertschi and Italian-born, but Switzerland-raised Luca Sbisa, comprise Vancouver's Swiss contingent.
Consider it a spin on Hockey Night in Canada – Hockey Morning in Switzerland, if you will.
Hiller admitted he could have been talking to a travel agent soon if it weren't for a spirited Calgary side that refused to lose when the big games were on the line.
"I think it was our work ethic and our will to never give up that brought us this far," said Hiller, who signed a two-year deal with the Flames last July as a free agent. "No matter who was in the lineup, or who was not, who was healthy and who was hurt, the guys that were playing gave 100 per cent. That way, we could overcome anything. The other thing is that even being down in a game we weren't going away. We stuck with the game plan and often times found a way to step our game up. Without all our comeback wins, we would be planning our vacation trips right now."
And while neither the Flames nor the Canucks were a consensus pick to make it to the post-season dance, both squads more than held their own against their respective competition.
There are plenty of storylines to be found in their quarterfinal clash, but only one side will move on to the Western semis.
Hiller has unwavering faith in his teammates.
"What makes us tough to play is the work ethic," he noted. "And, the 'never give up' mentality is sure part of it. But, I think even if we don't have the big stars in the lineup, we have a lot of skill and fast skaters that can be quite effective and dangerous on rushes."
A playing style that can ignite a city's passion and keep an entire country from turning in early.