Petr Mrazek – Playoff Performer of the Night
The Red Wings stole Game 1 on the road in Tampa Bay behind the strong play of goaltender Petr Mrazek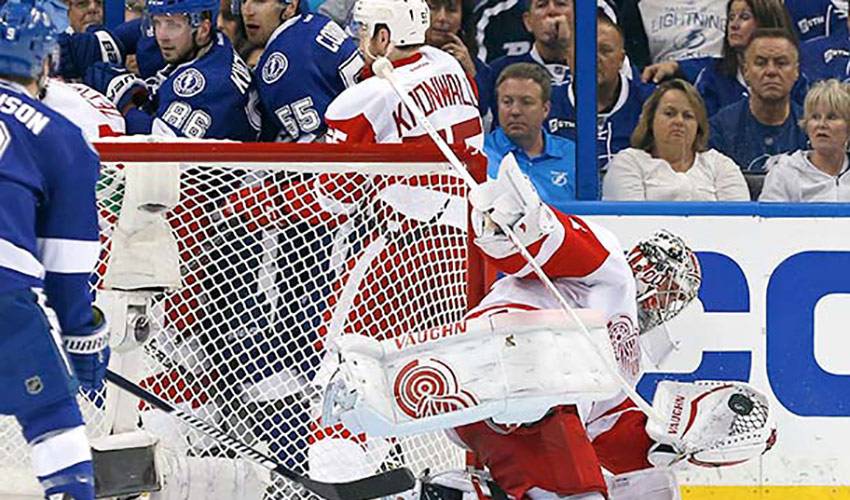 Love is in the air in Detroit for the Red Wings' goaltender whose birthday happens to fall on Valentine's Day.
It's somewhat appropriate that Petr Mrazek's birthday is February 14th – because the Czech goaltender was certainly feeling the love (from his teammates) after a stellar Stanley Cup Playoffs debut.
Mrazek turned aside 44 shots as the visiting Detroit Red Wings beat the Tampa Bay Lightning 3-2 on Thursday night, taking a 1-0 series lead in their Eastern Conference quarterfinal matchup.
The 23-year-old was at his puck-stopping best in the third period when he faced 19 shots, allowing just one goal, as the 'Bolts amped up their offensive surge.
STAT PACK: After posting a .918 save percentage in the 2014-15 regular season, Mrazek fashioned a .957 in his first post-season appearance between the pipes.
NEED TO KNOW: In 2011-12, Mrazek appeared in 17 Ontario Hockey League playoff games with the Ottawa 67's, winning 9, along with a 2.59 goals against average.
ANOTHER DAZZLING DEBUT: Mrazek made his NHL debut one week before he turned 21 (February 7, 2013) in a game against St. Louis, winning 5–1, while posting 26 saves. With the victory, he became just the second goaltender in hockey history to win his ECHL, AHL, and NHL debuts in the same season, joining former NHLer Alex Auld.
WHO IS THAT MASKED MAN?: Mrazek was simply stellar at the 2012 World Junior Championships. He backstopped the Czech Republic side to a spot in the quarterfinals and was chosen as the best goalkeeper of the tournament. He went 3–3 with one shutout in six games. The highlight was a masterful 52-save effort in a 5–2 triumph over the United States.
SHARED SPACE: Mrazek hails from Ostrava, the same hometown as fellow NHLPA member Roman Polak. Filip Kuba, who appeared in 836 regular season NHL games (including two seasons with Tampa), is also from Ostrava.
HONOURABLE MENTIONS: While Petr's performance was top of the table, we would be remiss to not mention the strong play of both Corey Perry (2 G, 2A) and Pavel Datsyuk (2G). Both players had stellar showings and helped lead the Ducks and Wings to series opening victories.