Players Help Light The Pan Am Fire
NHLPA members Grant Clitsome, John Mitchell & Zac Rinaldo represented their communities as torch bearers in lead-up to the Games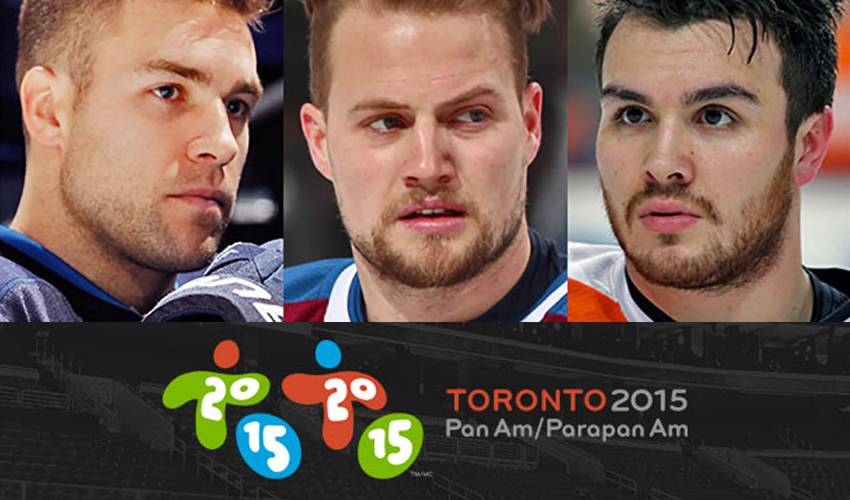 Hockey players are used to lighting a fire under their team. Carrying a torch as part of festivities for a major sporting event? Well, that's an entirely different story.
As athletes well versed at performing under stressful circumstances, Grant Clitsome, John Mitchell and Zac Rinaldo aren't the types to be easily rattled.
But, when the trio of NHL players was asked to participate as torchbearers for the Pan Am Games, they were admittedly a bit nervous when it was their turn in the spotlight during the torch relay.
"I really wasn't nervous about carrying the torch until the morning when I found out that I would be getting the flame from the Governor General of Canada (His Excellency the Right Honourable David Johnston)," said Winnipeg Jets defenceman, Clitsome. "I've driven and biked by the Governor General's residence countless times, so to actually meet him and share a brief conversation was pretty special.
"As an athlete growing up in Ottawa, to be able to be a part of the Pan Am Games torch relay in my home city and meet some of the athletes that are participating in the games, it was a great experience," he continued. "Watching world-class athletes compete in their discipline, knowing the amount of work, dedication and sacrifice required to get to that level, is always impressive."
Mitchell, a veteran of 412 regular season NHL games, was part of the July 7 Pan Am festivities in Toronto, a build-up to the world's third largest international multi-sport Games (surpassed in size and scope by only the Olympic Summer Games and the Asian Games).
"Lighting the torch and then jogging through the crowd was the best part," said the Colorado forward. "Running by and high-fiving the kids and seeing the smiles on their faces certainly brought a smile to mine."
Torchbearers were selected through a variety of channels and several of the 3,000 were chosen through a public process. Other members of the public were selected by sponsors and Games stakeholders, including the communities the torch relay passed through.
The Torch Relay was a 41-day journey that crossed through more than 130 communities. The Pan Am flame was lit in May 2015 during a traditional ceremony in Teotihuacan, Mexico, before it traveled to Canada.
"It was a lot of fun," said Mitchell. "It's something I've never done before. Having the Pan Am Games reach out to me was an honour."
Both players will be tuning in throughout the Games.
"I enjoy watching a lot of different events, but the ones I enjoy watching the most are the water events, like rowing and canoe sprint, and of course, I love the track events, especially the 100m," noted Clitsome.
The Pan Am Games take place from July 10 to 26 and the Parapan Am Games from August 7 to 15.
For more information on the 2015 Toronto Pan Am Games, including results, schedules, tickets and venue information, visit: www.toronto2015.org