Players Primed For World Cup
With the 2016 World Cup of Hockey one year away, players from around the globe share their excitement .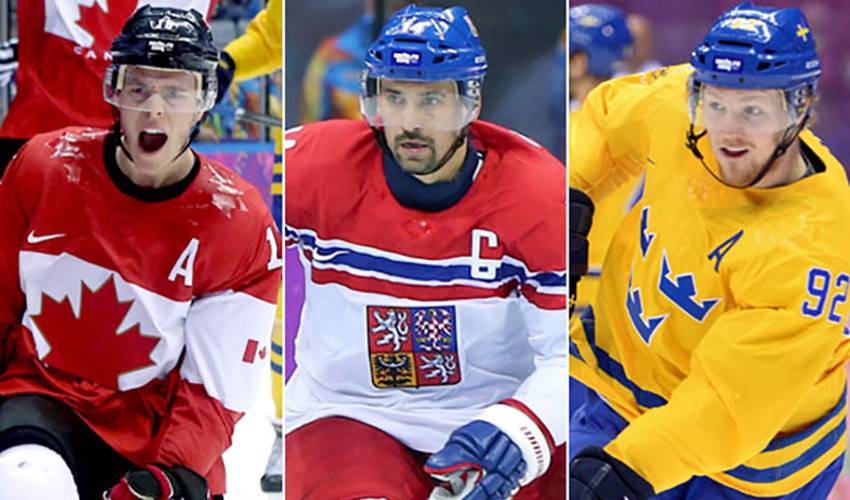 There is something special, NHL players will tell you, about wearing the jersey of your home nation.
With the return of the World Cup of Hockey in 2016, many NHL players will experience that cherished opportunity.
In a joint announcement by the NHLPA and the NHL on September 9 at the Air Canada Centre in Toronto, one attended by some of the games' biggest names, the international tournament had the players talking.
"I remember the first World Cup (1996) when the U.S. beat Canada," said Chicago captain and Winnipeg native Jonathan Toews, who won the 2006 and 2007 World Junior title with Canada, along with Olympic gold medals in 2010 and 2014. "The next one (2004), Canada won, so that was more enjoyable to watch, for sure. When you're a fan growing up, you take it so seriously. It's always much more than hockey when you play at the international level. It's almost political bragging rights for everyone involved."
Toews would love another shot at adding to his impressive international trophy case.
"It's another chance to play on the biggest stage for hockey," he said. "A lot of players said Canada could have had two teams at the Olympics because the talent is so deep. You just never take a (roster) spot like that for granted. To have a chance to go to the World Cup would be awesome. You never want to pass up an opportunity like that to represent your country, especially on home soil."
The World Cup will showcase a Young Stars team comprised of Canadian and American players aged 23 and under, as well as Team Europe, a lineup of all-stars from countries not represented. Those squads will face-off with Canada, Finland, the U.S., Sweden, Russia and the Czech Republic at the tournament played in Toronto.
The inclusion of Team Europe means an all-NHL group of players from countries such as Austria, Belarus, France, Denmark Slovakia, Switzerland, Slovenia, Latvia, Germany and Norway, will enable some notable NHLers, including Zdeno Chara (Slovakia) and Anze Kopitar (Slovenia), to also compete.
Tomas Plekanec, who won gold at the 2001 World Juniors with the Czech Republic, would relish the call to wear his country's colours at the World Cup.
"It's always an honour," said the Montreal Canadiens forward and alternate captain. "It's very special. In 1998, the whole country was upside down when the Czechs won the Olympics. It was a great feeling."
He's hoping to help deliver another memorable moment for Czech hockey next year.
"We've accomplished some nice things, the national team, and we have plenty of good players," noted the 32-year-old native of Kladno. "We are a smaller country, but we have talented players. This (World Cup) is going to be very exciting. Being part of it would be a great accomplishment in your career."
Sweden's Gabriel Landeskog, captain of the Colorado Avalanche, struck gold at the 2013 World Championships with Tre Kronor. He also won silver at last year's Winter Olympics in Russia.
"In 1994, when Peter Forsberg scored that shootout goal for Sweden to beat Canada in the Olympic gold medal game, I was very young, too young too remember it," said Landeskog. "For me, it was 2006 in Torino. I remember watching them beat Finland in the final, and jumping up and down on my couch, celebrating. I thought it was the greatest thing ever.
"It would be an honor to play in the World Cup and play for Team Sweden," he continued. "It's hard to really take it all in, just what it means. I finally figured that out when we won the World Championships in 2013. There were a lot of people cheering us on."
Joe Pavelski, part of the U.S. entry that won silver at the 2010 Winter Olympics, would jump at the chance to don the red, white and blue jersey once again.
"It's exciting," said the San Jose Sharks forward and alternate captain. "When you get to represent your country, it's a big honor, obviously. And then to get to these tournaments, you're going up against players you play against the whole year. It's fun to see their tendencies in practice and then you see that team on the other side (in international events) that's loaded. You definitely have to bring your 'A' game. It's exciting for us and it's exciting for the fans."
John Tavares, who has four gold medals with Team Canada, is hopeful for another shot at international success.
"Best on best is so rare, and when it happens, it's truly special," said the New York Islanders captain. "It's created some of the greatest moments in hockey history."
There's every reason to believe more will be added to that list when the World Cup of Hockey takes centre stage next fall.