It's A Canadian Thing
NHL Players amongst the growing throng of fans cheering and showing their support for Canada's only MLB team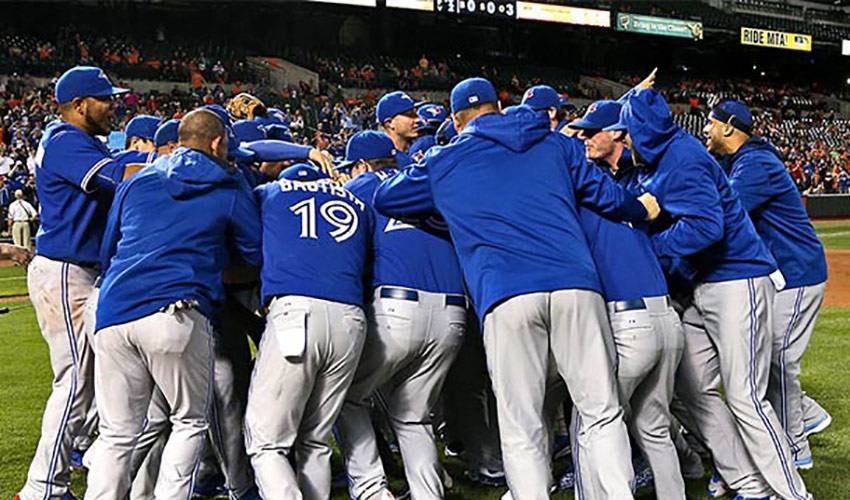 After a 22 year wait, the Toronto Blue Jays return to the baseball post-season has ignited baseball fans across Canada, a group that includes many NHLPA members.
When the Jays clinched the American League East division title last week, the victory prompted several NHL players to get into the swing of things, so to speak, via Twitter, as they posted congratulatory messages to the Toronto Blue Jays.
Thanks to a resounding 15-2 win in the first game of a doubleheader against the Baltimore Orioles on September 30th, Toronto clinched the American League East divisional crown and a spot in this year's playoffs.
The Jays hadn't won a division title since 1993, the year the Major League Baseball club celebrated its' second straight World Series championship.
With the Jays being the only Major League Baseball team in the entire country of Canada, it is no doubt that the level of support they receive seems significantly more wide-spread than most other MLB teams.
The teams' success has brought out the fan in a number of NHL players, including Florida Panthers forward Dave Bolland (@DaveBolland), who texted NHLPA.com the morning after the victory.
"It's been awhile since the last time (they won the AL East), I was just seven-years-old," said Bolland, who was born and raised in the Toronto community of Mimico, Ontario. "I still remember how crazy it was in the city. It's great for Toronto and the fans. Congrats, Blue Jays!"
Congrats to the Blue Jays..

— Dave Bolland (@DaveBolland) October 1, 2015
Jamie McGinn (@JamieMcGinn88) of the Buffalo Sabres also took to social media to give a shout out to the team and sent a congratulatory text via NHLPA.com.
Clinch day! #Jaysnation #division #1

— Jamie McGinn (@JamieMcGinn88) September 30, 2015
San Jose forward Joel Ward, who hails from Scarborough, Ontario, in Toronto's east-end, was equally thrilled. He retweeted:
Photos of the @BlueJays celebration are a true indication of how much the division meant to this team. pic.twitter.com/Fu9FDOmW2P

— TSN (@TSN_Sports) October 1, 2015
He was far from the only player to show their love for the Blue Jays.
Matt Duchene, Logan Couture, Matt Beleskey, Ryan Strome, Sam Gagner, P.K. Subban and Tom Wilson all got in on the fun, too with these retweets:
The East Is Ours! pic.twitter.com/IQOmYlwwX2

— Toronto Blue Jays (@BlueJays) October 1, 2015
When it's been 20+ years since a playoff appearance, it's NEVER too late to celebrate. (via @BlueJays) pic.twitter.com/YUztwnQlhZ

— Baseball Tonight (@BBTN) October 1, 2015
NEWS: Blue Jays clinch first AL East title in 22 years!! http://t.co/RTQ6dORMw8 #ComeTogether pic.twitter.com/FZ8I0asvud

— Breakfast Television (@BTtoronto) October 1, 2015
Ready for a big postseason run ⚾️🔥@MStrooo6 @BlueJays #6ix #AlEastChamps pic.twitter.com/PaHkTgeTwO

— Sam Gagner (@89SGagner) October 1, 2015
Blue Jays a labour of love for ... congrats Alex Anthopoulos: http://t.co/N53SIF8Sq9 pic.twitter.com/AghGNAZKdM

— P.K. Subban (@PKSubban1) October 5, 2015
Wilson, who plays for the Washington Capitals, showed his true colours in a quick video that he posted on Twitter.
Supporting the 6 here in Baltimore! Lots of blue looking for a division clinch!! @BlueJays pic.twitter.com/bHVjUBpcls

— Tom Wilson (@tom_wilso) September 30, 2015
With Blue Jays fever gripping Canada from coast to coast, plenty of hockey players will be tracking the team on its' World Series quest.
Who'll come up with home run Twitter messages? You can bet that the support from NHLPA members and all fans will only continue to grow as the post-season rolls on.
Keep your bases covered by viewing Player tweets on NHLPA.com.
NHLPA.com's Ryan Parker contributed to this article.