G&D VISITS EDMONTON WITH KIDSPORT ALBERTA
Young hockey players meet Eberle, Hendricks as Goals & Dreams furthers support for KidSport.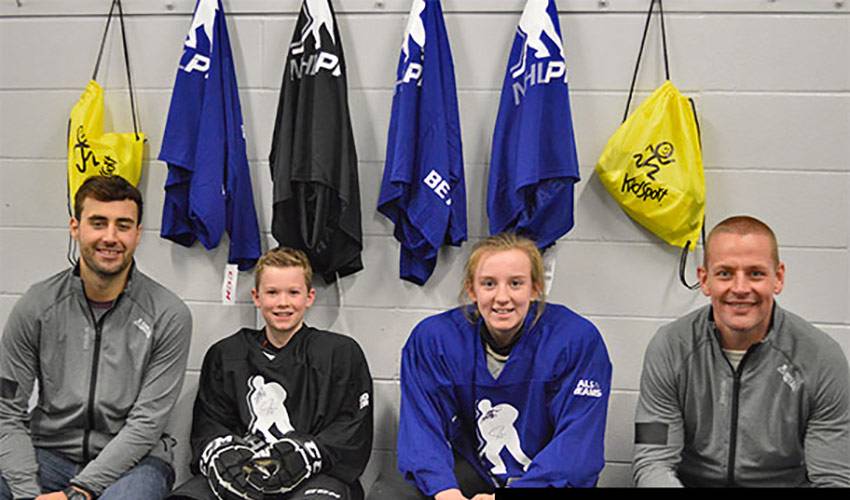 It was a brisk Thursday in Edmonton, Alta., when the NHLPA Goals & Dreams (G&D) fund made a special visit to the Clareview Arena with KidSport Alberta to meet more than 30 peewee-aged hockey players from teams in the surrounding areas.
G&D is in Alberta for two days to celebrate its latest support of KidSport, in the form of 50 complete sets of new hockey equipment to KidSport Alberta – valued at $25,000. The new equipment will be distributed to deserving children in surrounding communities.
For G&D's first day in Alberta, Jordan Eberle and Matt Hendricks were on-hand – and as a surprise to the kids in attendance – representing the players' charitable program. They served as ambassadors for G&D to recognize the relationship between the program and KidSport, which has now spanned several hockey seasons and equipment donations.
Hendricks underscored the importance of supporting an organization such as KidSport in Alberta, "Being a part of this community and for our NHLPA Goals & Dreams program to make this donation of 50 sets of hockey equipment at this time of year during the holidays, it means a lot. The goal is to get as many kids in the sport of hockey as possible."
Matt Hendricks & @ebs_14 in the locker room chatting w/ the kids during our @NHLPA Goals & Dreams event in Edmonton. pic.twitter.com/41bt6WVeZw

— NHLPA (@NHLPA) December 10, 2015
As Mike Warkentin of the KidSport Alberta Board of Directors explained, providing children with more opportunities to participate in sports is crucially important to both organizations: "To have a longstanding partnership with an organization like the NHLPA really helps us to share the hockey experience with kids across Alberta. The message over the past few years, through the NHLPA Goals & Dreams program, is that anyone is able to play hockey. Together we break down the barriers and give kids, who otherwise wouldn't be able to play hockey, the opportunity through grants from KidSport for registration fees and supply the equipment through the NHLPA Goals & Dreams program."
Eberle echoed a similar sentiment, "It means a lot to us. Sports are why we are in the NHL. It kept us away from things that might have gotten us in trouble. And we had that opportunity when we were younger. So for us to be able to give that opportunity to kids who maybe don't have that, it really is what it's all about."
During the afternoon event, the children enjoyed the opportunity to meet and interact with two of their favourite Oilers players, ask them some hockey-related questions and get an autograph. It was a rare occasion that will stay etched in their memories for years to come.
The room was full of cheers and smiles when Eberle and Hendricks made their surprise entrance. To cap-off an unforgettable day on Thursday, the children went through an on-ice skills clinic after their chance to spend time with Eberle and Hendricks.
Hendricks had a chance to meet some of his hockey heroes growing up in Minnesota, "I can think back to some of the North Stars that I was able to meet, Neil Broten, Brian Bellows, Basil McRae, Mike Modano to name a few. You get their autographs, put it in your bedroom, those are your dreams at that age. I know it meant a lot to me, hopefully it means a lot to these kids, too."
KidSport Alberta is on target to help nearly 10,000 kids play sports in 2015, and last year helped 1,219 kids play hockey. Now in its 16th year, NHLPA Goals & Dreams has donated more than $23-million to grassroots hockey programs in 34 countries around the world.
G&D will head to Calgary for another exciting event on Friday afternoon to complete this two-day Alberta visit with KidSport.