Clutterbuck Helps Bring Smiles
Visiting & chatting with young fans who are battling illness is something that stays with Cal Clutterbuck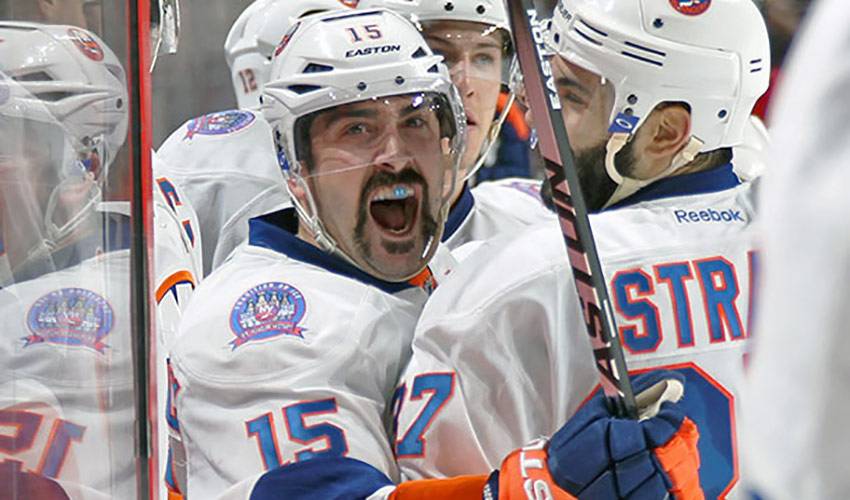 Cal Clutterbuck has always been known as a stand-up guy, the type of player and person who goes above and beyond what's expected. Just like he did for a young kid and his family in Minnesota.
Throughout his time in hockey, from his junior days with the Toronto St. Michael's and Oshawa Generals, to the 540-plus NHL games he's skated in, the New York Islanders forward has been committed to making time for others.
Hospitals visits, charity events, community functions, autograph signings – Clutterbuck isn't the type to need any arm-twisting to get involved.
And, like his fellow players, it's never about creating positive publicity.
"I think hospital visits are unique because most of the time the people you are visiting have been going through really tough times," noted Clutterbuck. "It's really unbelievable to see someone's mood change so dramatically after seeing you and your teammates walk in the door. Just the five minutes of interaction allows them to focus on something other than what's troubling them, which I think is a big deal.
"Other fan events are also great because again, you have the opportunity to make people happy just by showing up, shaking their hand and taking a picture," he continued. "The time spent at those events doesn't always seem like much at the time, until you bump into someone five years down the line and they tell you about that day they met you five years ago. That's pretty cool."
It's not uncommon for players to stay in contact with some of the people they meet, something that Clutterbuck is certainly familiar with.
Case in point, a family he met during his days with the Minnesota Wild.
"There is a family in Minnesota whose eight-year-old son had serious organ failure," recalled Clutterbuck. "When I first met him, he was on the waiting list for help, but his situation was serious. After about a year, he ended up getting the organ he needed, the surgeries went well and slowly he battled his way through the process and became a healthy young man."
The two stayed in touch, each providing the other with updates on their respective lives.
"We would talk periodically through the whole thing," said Clutterbuck. "He would text me about games, or when I would score (which was not all that often). I got to see him through the whole process. I was part of the family update emails, etc. That experience for me was incredible. That little guy had such a great attitude. You can't help but want to follow his lead."
And, Clutterbuck undoubtedly has.
A hectic schedule, key divisional contests, pivotal games leading up to the playoffs – there is plenty on his plate these days.
Even so, Clutterbuck will do as he has always has, to make time, (even it's a brief interaction), for others.
"There are some things that you encounter, like when you go to hospitals, that can be very saddening. The uplifting part of it is to see how positive the patients are despite the trouble they are encountering. I leave there every time feeling inspired by a lot of those people."
It certainly shows.