Brouwer & Blues Onto Round Two
Troy Brouwer scored the game-winning goal as the St. Louis Blues defeated the defending champs in Game 7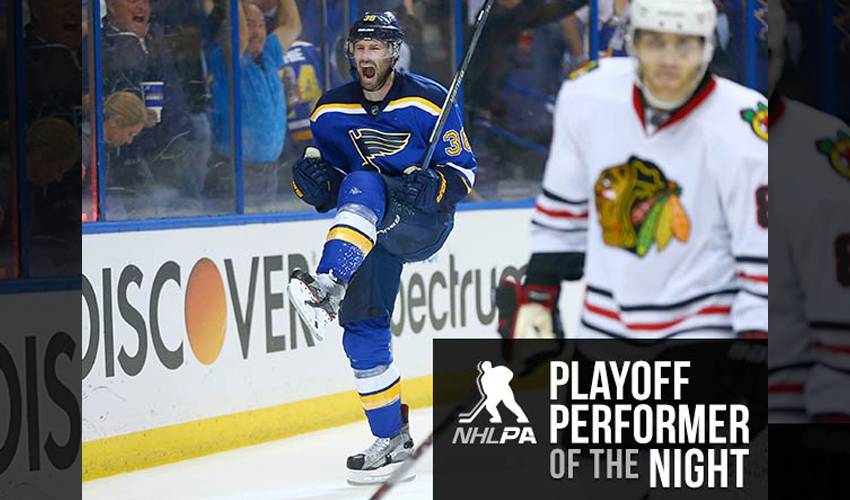 St. Louis forward Troy Brouwer nets PPOTN honours for his series-winning goal in Monday night's 3-2 win over Chicago in Game 7.
The veteran sent the Blues to the second round – where they'll face Dallas – with his eighth career postseason tally.
STAT PACK: Brouwer also had one blocked shot, six hits, was a plus-1, registered one takeaway, and took 28 shifts in 18:13 of ice time.
NOT PRETTY, BUT PERFECT: The 30-year-old admitted his timely tally wasn't the most beautiful one of his career. "…the ugliest goal I've ever scored and probably the timeliest goal I've ever scored. "I just tried to stay with it, knowing the magnitude of the game, knowing how everything's been going."
FINDING HUMOUR IN IT ALL: When the game was over, Brouwer spoke with Darren Pang. Asked about his goal, he quipped, "That was almost really embarrassing. If I would've missed that one, I might've quit hockey."
THE BIGGER PICTURE: The win represents the first time St. Louis has moved on past the first round since 2012, when they beat San Jose, but were then ousted by Los Angeles. "We're still not where we want to be," Brouwer said. "We want to be playing in a month and a half still."
REMEMBER ME?: Brouwer won a Stanley Cup with Chicago 2010. Last night's game was his seventh career Game 7. His winner came at 8:31 of the third period.
THORN IN THEIR SIDE: Brouwer, who appeared in 238 regular-season and 43 playoff games with the Blackhawks, scored his second career game-winning goal against his former team. The first was during the 2015 NHL Winter Classic, where he scored with 12.9 seconds remaining in regulation to lift the Capitals to a 3-2 victory.
AND SPEAKING OF THE GREAT OUTDOORS…: "I've had some good moments in my hockey career, but this one, with all the intangibles, that played a part in it," said Brouwer, of the Winter Classic. "My parents being able to come into town, playing against my former team, this being the first goal that I scored against my former team and the dramatic fashion at the end of the game of how everything played out, it's going to be a memorable day, a memorable event. The entire lead up to this has been a lot of fun and the finish couldn't have worked out any better for us as a team and for me personally."
MOOSE ON THE LOOSE: Brouwer had a standout Western Hockey League career with the Moose Jaw Warriors. In 2005-06, as team captain, he scored 49 goals and recorded 102 points, winning the Bob Clarke Trophy as the WHL's top scorer.
PERSONAL FAVES: Brouwer's favourite TV show is 'Modern Family' and his favourite sport, other than hockey, is golf.
HONOURABLE MENTIONS: Brian Elliott made 31 saves in the Blues' win. Robby Fabbri and Paul Stastny assisted on Brouwer's goal. James Neal had a goal and an assist as Nashville beat Anaheim 3-1 to force Game 7. Pekka Rinne made 26 saves for the Predators.