Pavelski Puts Sharks in Command
Joe Pavelski led the way with three points in Game 5 as the Sharks took a 3-2 series lead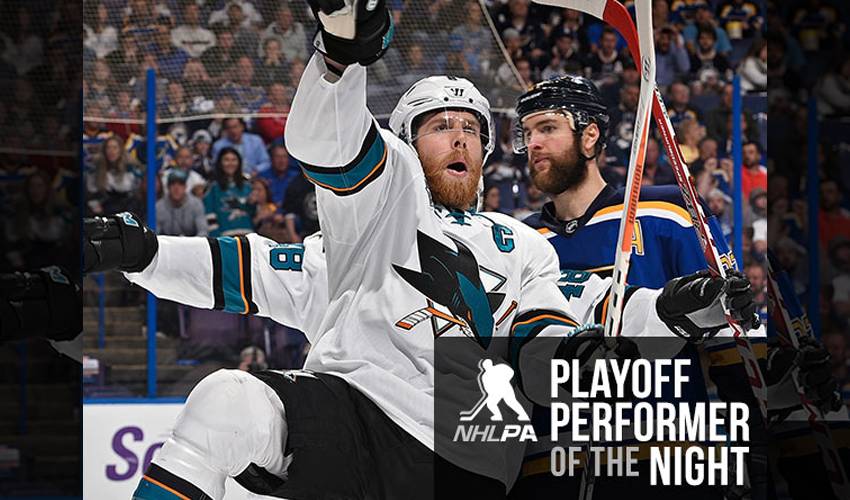 Joe Pavelski is the PPOTN after scoring two goals and adding one assist in San Jose's Game 5 win over St. Louis in the Western Conference Final.
The centreman tied the game late in the second period and netted the game-winning marker early in the third as the Sharks beat the Blues 6-3.
STAT PACK: Pavelski registered two shots, recorded one hit, had one takeaway, and took 26 shifts in 18:00 of ice time.
KEEP AN EYE ON JOE: "You think back to some of the best scorers ever," said head coach Peter DeBoer, of Pavelski. "His ability to get his stick on pucks in the offensive zone, in front of the net, different angles, is as good as anybody I've ever seen. But it's a great lesson. He works at it. He works at it every day. He gets Burnsy (Brent Burns) or one of the other D, gets them to fire 100, 200 pucks. I'll watch him from the boards with the other coaches. He'll get a piece of every single one. It's something that he has worked at. It's a great lesson for kids out there that want to play. You have to work at those things to become really good. He's got some God-given ability, too. His biggest asset is he works at it."
ON A ROLL: "I think odds are he's going to pass, especially in that situation," said Pavelski, of linemate Joe Thornton. "Plus he gets it behind the goal line. You're just trying to work to get open. First look, going to see who is open. He does a good job. If you're not open, he doesn't make a careless play. He got it there. Got a little fortunate with the rolling puck, see it kind of change angles a little bit, find its way in."
ALL ABOUT BALANCE: "There's so many emotions throughout a playoffs, you just try to not get too high, not get too low," said Pavelski. "If we play a game like we did the other night, you just try to respond, play a good game like tonight. You want to ride that and stay with that. It's about throwing our game out there each night, the game that we like, we feel that's best suited for us. When we do that, we give ourselves a good opportunity to win, get some chances. We believe we can be tough to play against. It's about that. But it's a four-line attack for us. Everybody has played a key role in it so far. That's going to have to continue."
RESILIENT GROUP: "There have been times through the regular season where we've gained that confidence, we've come back. Spent a lot of time on the road. It's never easygoing on the road. Guys have shown up to play, done a good job. It just goes back. There's going to be nights where we don't have it. We got to realize a little bit better when we don't have it, change it. We don't need to change it the next game, but try to change it mid game maybe. If it happens, it happens, we'll try to respond better. Guys have done a good job of throwing our game out there more often than not."
LEADING THE WAY: Pavelski is first in playoff goals (12), points (21, tied with teammate Logan Couture), power-play goals (5) and game-winning goals (4).
INTO THE RECORD BOOKS: Pavelski scored the tying and go-ahead goals in a span of 1:43 over the second and third periods to establish a franchise record with his league-leading fourth game-winning goal of the 2016 Stanley Cup Playoffs.
SEVENTH HEAVEN: Pavelski's seven career three-point games in the postseason are the most in franchise history. Only three players have more such performances since the start of 2007 Stanley Cup Playoffs: Penguins teammates Evgeni Malkin (13) and Sidney Crosby (10) and Red Wings captain Henrik Zetterberg (8).
LATE-ROUND GEM: Pavelski was selected 205th overall in the 2003 NHL Entry Draft. Three years earlier, all-star goaltender Henrik Lundqvist was chosen in the same spot.
HONOURABLE MENTIONS: On Friday, Alex Killorn, Victor Hedman and Nikita Kucherov each had two assists in Tampa Bay's 4-3 win over Pittsburgh in Game 4 of the Eastern Conference Final. On Saturday, Kyle Brodziak and Troy Brouwer both chipped in with two goals as St. Louis doubled San Jose 6-3 in Game 4 of the Western Conference Final. On Sunday, Nikita Kucherov recorded two goals and one assist, and Tyler Johnson had the overtime winner, as the Lightning beat the Penguins 4-3 in Game 5 of the ECF.