Clitsome Calls It A Career
Back issues led Grant Clitsome to announce his retirement from professional hockey this week after 205 NHL games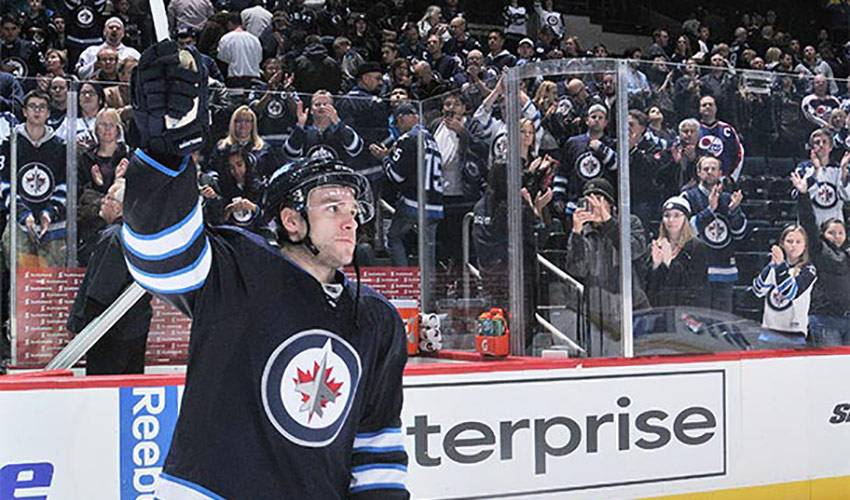 Whether he was donning the collegiate colours of Clarkson or the NHL jerseys of Columbus and Winnipeg, Grant Clitsome wore each with the utmost pride.
Clitsome, who announced his retirement June 1 due to back-injury issues, is hardly far removed his hockey life. Yet, as he looks back on big-league career and four university seasons, he has nothing but fond memories of those times.
"I truly enjoyed every second, every minute of it," said the 31-year-old native of Gloucester, Ont. "I'll definitely miss the camaraderie of being around the guys and I'll miss the competitive nature of the game – that will be hard to replicate – but I'm grateful and proud of what I was able to accomplish."
After a starring role with the Nepean Raiders and at Clarkson University, where he helped the team to 78 wins from 2004-08 while earning All-America and ECAC All-Star status, Clitsome, drafted in 2004 by Columbus, played 11 NHL games with the Blue Jackets in 2009-10.
He would skate in 205 career games with Columbus and Winnipeg, scoring 15 goals and recording 56 assists. His final NHL game came in January of 2015.
"I was playing in Syracuse (American Hockey League) and I was told by the team's assistant GM that I was getting called up," recalled Clitsome. "I wasn't sure I was going to play. I tried to take a pre-game nap, but I couldn't sleep. It was impossible. Once I got to the rink, the excitement kicked in. There's so much that goes through your mind. Once I got on the ice, I was okay. You get that first shift out of the way and you relax."
Although the Blue Jackets lost in overtime to Vancouver in that March 2, 2010 game, Clitsome chipped in with two assists and was third star.
"When I was in college, the seniors would tell me the four years are going to fly by," he recalled. "I remember thinking, 'Yeah, right.' But, it's true. It's the same thing in the NHL. You wonder, 'Where did the time go? The only difference is there's no expiry date like you have in college."
As for what his future holds, Clitsome, who has a major in entrepreneurship and business and a minor in law and political science, is looking at several different options. He's also looking forward to spending more time with his wife, Valerie, and their young son, Noah.
"I'm going to keep my options open," he offered. "My father-in-law has an apple orchard close to Quebec City and we've talked about the idea of an apple cidery."
There's also politics.
"I'm very interested in it," said Clitsome. "My friend (Nicolas Mann) and I are working on a website that will look to engage and educate Canadian youth on the importance of politics. I'd love to get more people voting and involved. "
For the next little while, however, Clitsome will be content to appreciate his NHL life, one that ended not on his own terms, but one he remains grateful to have had.
"There's a lot you'll miss," he said. "I worked hard to get to the NHL and it was a great experience, from the players to staff and management. Hockey guys are great people."