Donskoi Gets It Done For Sharks
Joonas Donskoi roofed the overtime winning goal to give San Jose life in the Stanley Cup Final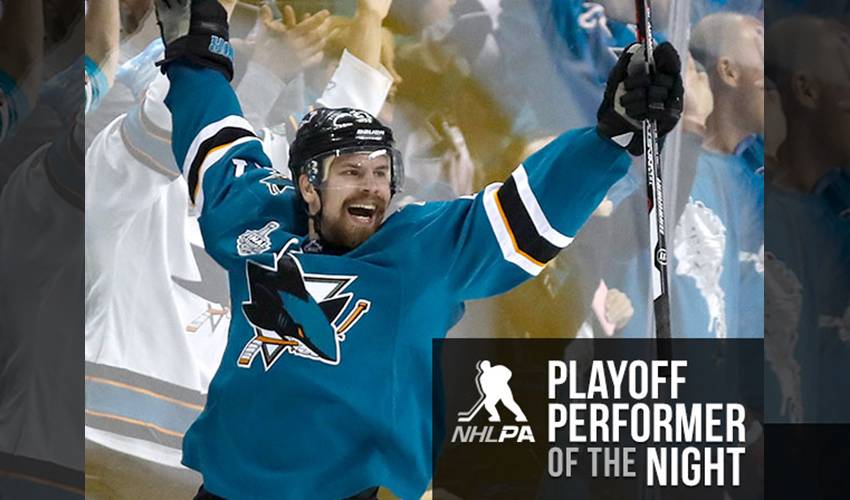 Joonas Donskoi is the PPOTN honoree after his winning tally in San Jose's Game 3 triumph over Pittsburgh in the Stanley Cup Final.
The right-winger scored in overtime and also had an assist as the Sharks got past the Penguins 3-2 on Saturday night.
STAT PACK: Donskoi had three shots, was a plus-2, recorded two takeaways and took 33 shifts in 19:09 of ice time.
IMPRESSIVE COMPANY: Donskoi became the first Finnish player since Jari Kurri to score an overtime goal in the Stanley Cup Final. Hall of Famer Kurri did it for the Edmonton Oilers against the Philadelphia Flyers on May 20, 1987.
THE REAL DEAL IN TEAL: "I met Joonas at our development camp last July," said head coach Peter DeBoer. "I heard about his season in Finland. Our guys, everyone, felt that he had a chance to play down the road. I think everyone first saw him starting in the American League. He was our best player in development camp. We went on to the main camp, he was the best player in the main camp, exhibitions. He just kept jumping over hurdles. He's the real deal, a real good player for us. We wouldn't be here without him."
TAKING HIS BEST SHOT: "I just had a transition rush, three-on-two," said Donskoi. "Just going to hold on to it for a split second. Just kind of saw a lane, just buried the head and just took a slapper. Fortunate to go in."
FINN-TASTIC PLAN: "I decided to stay in Finland a little bit longer than maybe usual," noted Donskoi. "Kind of waited the right moment to come over. I had couple of good years last seasons and year before that, two championships. I kind of got the experience what you have to do to be professional hockey player 24/7, what you have to do to success. I kind of felt like this is the time to come over. Now I can give my best to try in the NHL."
TAKING A SHOT: "I think we should shoot more," offered Donskoi. "We're passing up good opportunities too much. We should get the puck to the net more. That's something we can do better."
LEADING THE WAY: Donskoi led Finland in goals (5) and game-winning goals (3) at the 2015 World Championships.
GREAT START: Donskoi scored his first NHL goal in his first NHL game, October 7, 2015 against the Los Angeles Kings.
HAPPY BIRTHDAY: Donskoi shares a birthday (April 13) with former U.S. President Thomas Jefferson, MLB players Hunter Pence and Lorenzo Cain, and NFL running back Melvin Gordon.
HONOURABLE MENTIONS: Joel Ward had one goal for the Sharks, and Martin Jones turned aside 40 shots in the win. Joe Thornton had two assists and Justin Braun blocked five shots for San Jose. Ben Lovejoy had one goal and one assist for Pittsburgh.