Dorsett: You don't get 1,000 by being soft
Vancouver Canucks teammates reflect on Henrik Sedin's accomplishments on and off the ice, after the captain netted his 1,000th career NHL point on January 20.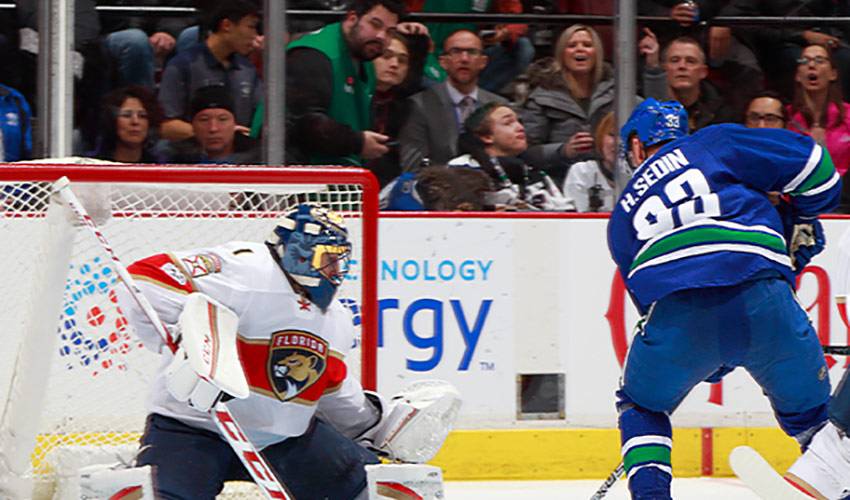 As far as milestone moments go, Henrik Sedin couldn't have asked for anything better.
The Canucks captain netted his 1,000th career NHL point – the first Vancouver player to achieve the feat – on a second period goal as Vancouver went on to record a 2-1 home win over the Florida Panthers on January 20.
Trailing 1-0, Sedin took a pass from his twin brother Daniel, broke in alone and then slid home a backhander to knot the game.
Then, the celebration was on.
Vancouver players rushed off the bench to embrace their leader. Former teammate, friend and current Florida goaltender Robert Luongo gave Sedin a quick pat in the aftermath.
The 36-year-old is the 85th NHL player to reach 1,000 points.
"It's pretty incredible," said Canucks forward Brandon Sutter. "Henrik and Daniel play a style of game that I don't think we have seen from any other players in history - such a unique style of skill."
Defenceman Ben Hutton was equally complimentary.
"It's an amazing accomplishment that not many players get to and I couldn't be any happier for Henrik," he said.
No. 33 couldn't have written a more perfect script.
A remarkable career achievement realized with a helping hand from his brother, a come-from-behind victory on home ice against an opponent Henrik notched his first NHL point against on October 6, 2000 – it really doesn't get much better than that.
Derek Dorsett, out for the season with a neck injury, jumped at the chance to speak about Sedin's memorable game.
"First and foremost, he's an exceptional person, just like his brother," Dorsett told NHLPA.com. "For Henrik to score at home and score a big goal on a pass from his brother – that's just a big moment and he deserves it.
"Henrik and Daniel are just great people," he continued. "They're always happy when they come to the rink, they wear their hearts on their sleeves and it's never about them. I know what it's like to play against them. Some people call them soft, but you don't get 1,000 points in this league by being soft. To reach that number, that means you have to go to the tough areas. And they both do."
Praise isn't limited solely to what the Sedins do on the ice.
"Henrik's not only an amazing player, but a great leader and person for our hockey team and community," praised Hutton.
Vancouver players are looking forward to adding another chapter to the Sedin milestone story. Daniel is 32 points away from hitting the mark.
"I'm happy Henrik reached the milestone and happy to know that Daniel will get there, too," said Dorsett.
It's a sentiment echoed by Sutter.
"Henrik is such an awesome teammate," said Sutter. "He deserves a lot of credit for the way he handles himself. He's very deserving to be amongst the other greats at 1,000. Daniel won't be too far behind."