Shaw Proud to Serve as You Can Play Ambassador
"This is a good step in the right direction," said Shaw. "It's good for everyone. It's just nice to be part of this."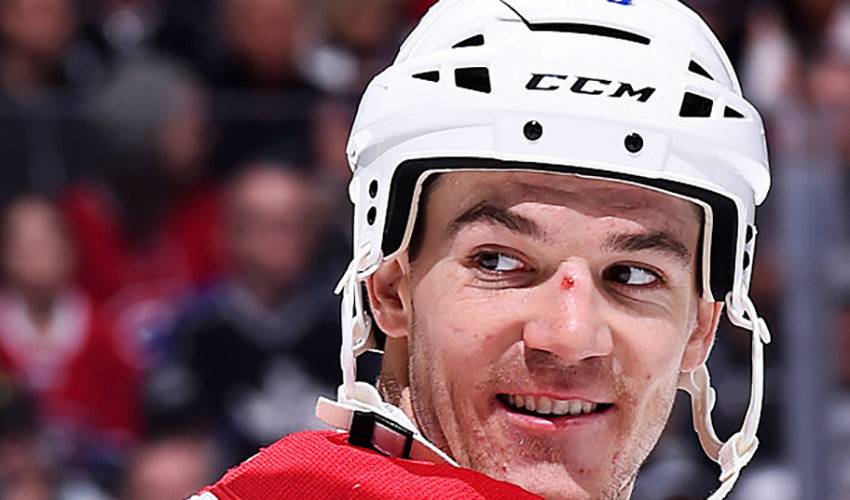 February is Hockey Is For Everyone month, and the campaign has been conducted in partnership with the You Can Play Project, which works closely with LGBTQ athletes and promotes respect and inclusion for everyone. Each of the 30 NHL clubs have designated a You Can Play ambassador – one player for each team – with Andrew Shaw being named the Montreal Canadiens representative.
It's a role Shaw is honoured to have.
As noted in a recent media release, the ambassador on each team will be "a leader in the locker room and in the community on diversity, equality and inclusion."
During the 2015-16 playoffs, Shaw, then with the Chicago Blackhawks, was given a one-game suspension and fined for directing a homophobic slur at an official. The centreman issued a heartfelt apology at the time, noting that he wanted to learn from the mistake.
He's trying to show that he continues to live up to his words.
"[You Can Play] brought it to the team and I thought it would be a good opportunity to help out. What I went through last year, I learned from it. Words affect people more than you think, and that's something that I learned," said Shaw to a large media scrum following the Montreal Canadiens practice on Friday.
"This is a good step in the right direction," Shaw told NHLPA.com. "It's good for everyone. It's just nice to be part of this."
Shaw is particularly proud to be in a position to champion the NHL and NHLPA's Hockey Is For Everyone month, an initiative that began on February 1.
"It's always been important to me to help others," he said. "I'm also glad that the NHLPA and NHL are supporting it as well."
The 25-year-old can also count on the support of his teammates.
"I'm happy to do whatever I can," said Shaw. "If anyone has any questions, I'll answer them. I play with a great group of guys and I want to be a person that can be counted on to listen, to encourage others and to work together to find success."
Part of You Can Play's mission includes educating athletes on ensuring the safety and inclusion of all in sports – including LGBTQ athletes, coaches, and fans. Shaw's ambassadorship this season is living proof that their work is creating positive changes in the world of professional sports.
Each club will have a designated 'You Can Play' night over the course of the month, with the Montreal Canadiens hosting theirs on February 22nd.
Here is the full list of You Can Play player ambassadors:
Anaheim Ducks — Ryan Kesler
Arizona Coyotes — Oliver Ekman-Larsson
Boston Bruins — Brad Marchand
Buffalo Sabres — Anders Nilsson
Carolina Hurricanes — Eddie Lack
Calgary Flames — Matt Stajan
Chicago Blackhawks — Trevor van Riemsdyk
Colorado Avalanche — Gabriel Landeskog
Columbus Blue Jackets — Scott Hartnell
Dallas Stars — Curtis McKenzie
Detroit Red Wings — Frans Nielsen
Edmonton Oilers — Matt Hendricks
Florida Panthers — Shawn Thornton
Los Angeles Kings — Dustin Brown
Minnesota Wild — Charlie Coyle
Montreal Canadiens — Andrew Shaw
Nashville Predators — Colin Wilson
New Jersey Devils — Andy Greene
New York Islanders — Casey Cizikas
New York Rangers — Mats Zuccarello
Ottawa Senators — Dion Phaneuf
Philadelphia Flyers — Claude Giroux
Pittsburgh Penguins — Chris Kunitz
San Jose Sharks — Chris Tierney
St. Louis Blues — David Perron
Tampa Bay Lightning — Brian Boyle
Toronto Maple Leafs — James van Riemsdyk
Vancouver Canucks — Henrik Sedin
Washington Capitals — Braden Holtby
Winnipeg Jets — Jacob Trouba