Under the influence of Patrick Roy, Martin St. Louis and Jaromir Jagr
The 26-year-old centre was pleased he made the most out of his opportunity with his new team, but dissatisfied the playoffs began without the Panthers two weeks ago.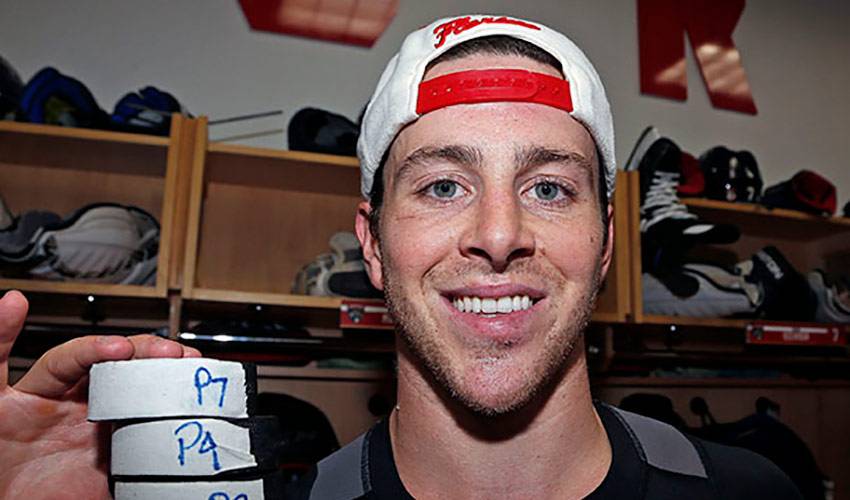 Florida Panthers forward Jonathan Marchessault began his off-season drive to his hometown of Cap-Rouge, Quebec on Wednesday. The lengthy trek from Delray Beach in South Florida to his home in the Quebec City suburbs gave him plenty of time to reflect on his breakout 30-goal season.
The 26-year-old centre was pleased he made the most out of his opportunity with his new team, but dissatisfied the playoffs began without the Panthers two weeks ago.
A late-season, six-game losing streak spoiled any chance of a lassoing the eighth and final playoff spot in the East.
"While I'm happy I made a name for myself I'm disappointed we didn't make the playoffs," Marchessault said. "Making the playoffs is what we play for." Marchessault knows all about the thrill of victory and agony of defeat in the playoffs. Two years ago, he was summoned after his AHL season had ended with the Syracuse Crunch to be one of the Black Aces for the Tampa Bay Lightning.
When Lightning veteran Ryan Callahan was sidelined after an emergency appendectomy Marchessault saw action in a couple games. But mostly, he had an up close and personal view of what it takes to succeed in the playoffs as the Lightning advanced all the way to the final, only to lose in six games to the Chicago Blackhawks.
Marchessault also enjoyed playoff success with his junior team, the Quebec Remparts. They advanced to the 2010-11 QMJHL conference final. But even though he enjoyed a 40-goal regular season and scored 11 more times with 33 points in 18 playoff games, the 5-foot-9, 163-pound Marchessault was never drafted.
The New York Rangers, however, signed him to his first pro contract. After a year in their organization he moved to the Columbus Blue Jackets and then the Lightning. But he only played in a total of six NHL regular season and playoff games in his first four pro seasons.
Then, after seeing action in 45 games and another five in the playoffs for the Lightning last season, Marchessault decided to sign a two-year deal with the Panthers in the summer. They had promised regular ice time and a spot on the second power-play unit.
It didn't seem to matter who were Marchessault's linemates. He flourished whether playing alongside Aleksander Barkov, Jaromir Jagr, Vincent Trocheck or Nick Bjugstad.
"They made my life easy," the humble Marchessault said.
"For four years I bounced around. It's a hard process. Now I have a home. It's nice to get rewarded."
The undrafted Marchessault deserves the credit, but he also has been directly and indirectly touched by a Hall of Famer in Patrick Roy and future Hall of Famers in Martin St. Louis and Jagr.
Marchessault was asked about the influence of the three.
On Roy, his coach with the Remparts: "I didn't like him as a person when he was my coach. I'd be feeling happy going to the rink and he would bring me back down to earth. He was hard on me, but he pushed me to get better.
"I like him now. We are members at the same golf course. When I see him in the summer we joke with each other and share stories. I realize what he did for me."
On St. Louis, the patron saint of pint-size players: "When I was about seven or eight, maybe nine, my Mom and Dad and brother and me took a family vacation to St. Petersburg [Florida]. My Mom and Dad surprised us with tickets to a Lightning game to watch two of my favourite players, Vincent Lecavalier and Martin St. Louis. He was amazing that game.
"I've never met Marty. He was gone from the Lightning when I got there. But he gave us small guys hope. I loved watching him play. The way he used his speed and how strong he could be on the puck despite his size."
On Jagr: "He made such an impression on me this year. From the time he put in working out to what he did on the ice. He's an amazing athlete. We likely will never see a player in the league at 45 ever again. He didn't always come with us for team dinners on the road, but when he did I tried to sit near him to listen to all his stories.
"There was a game in Anaheim [in mid-February] when he took the puck off [Ducks defenceman Josh Manson] as he was coming out from behind their net. Jaromir then made a beautiful move to beat their goalie [John Gibson]. It was one of those moments you glad you saw live."