Make Room for Frederick Gaudreau
Whether it's in the Nashville home dressing room or on the ice, Frederick Gaudreau just can't help be the centre of attention.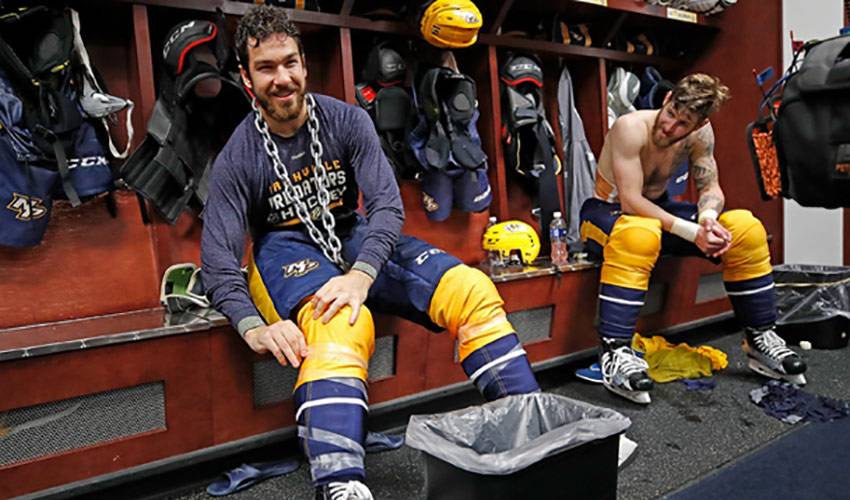 Whether it's in the Nashville home dressing room or on the ice, Frederick Gaudreau just can't help be the centre of attention.
It's something you notice the second you walk into the Predators room at Bridgestone Arena: a stall smack-dab in the middle of the surroundings that belongs to No. 32.
Frederick Gaudreau:

- 3 goals in the Cup Final
- doesn't even have his own locker
- nice IKEA chair pic.twitter.com/zFAeCTi362

— Cole Padawer (@HKY_Tweets) June 6, 2017
Yes, it stands out. So does the player.
The 24-year-old scored his third goal of the Stanley Cup Final in a 4-1 Nashville win over Pittsburgh on Monday night, a tally that put Gaudreau in the NHL record books alongside Chicago's John Harms as the only two players to score their first three career goals in the championship series. Harms achieved the feat in 1943-44.
Gaudreau's big performances don't necessarily guarantee a move to better digs in the Nashville dressing room.
"Freddy, we'll see what we can do," quipped Predators captain Mike Fisher. "We'll see if we can squeeze him in somewhere."
Head coach Peter Laviolette isn't going to get involved in any of it.
"I stay out of that stuff," he said. "It's working for him."
It's hard to argue the point.
After nine regular season games in 2016-17 with the Predators that yielded one assist, Gaudreau, who has played 184 games over the past three campaigns with Milwaukee of the American Hockey League, has been a major factor in Nashville's quest to land its first Stanley Cup triumph.
Two of his trio of tallies – on four shots – stood to be game-winning goals. He's averaged 11:45 of ice time in the post-season and is a plus-2.
"When you start the way he did, having to work for everything, literally every contract and every opportunity, improve yourself," started Laviolette. "At this level, it's no different. That's on him. There's a lot of people that have helped along the way in his development, from his coaches in juniors to our coaches in the minor leagues to our development coaches that help him from summer to summer.
"But I think that speaks to Freddy, to be honest with you. To be able to take the road that he has, come out on the end, be a contributing player in the Stanley Cup Finals."
Fisher also heaped praise on the native of Bromont, Quebec.
"Clearly the stage is not too big for him," said Fisher. "It's been unbelievable for us, the way he's come, he's been so good. Timely goals, composed. You know, he definitely belongs. He's been a huge part of our success."
For his part, Gaudreau is taking all of it in stride.
"I just try to put my focus at the right spot," he said. "I'm getting to that point where I think I can handle all those situations."
He can also handle his spot in the Nashville dressing room.
Don't expect Gaudreau to request a move any time soon. He's happy where he's at, on and off the ice.
"For the stall, I mean, I could be sitting on the floor and I would take it," he said. "I'm just happy to be here. I don't really care about the stall, to be honest."