Couture, Lindros team up for concussion research
When it comes to being game-changers for concussion research, Logan Couture and Eric Lindros are definitely all-in.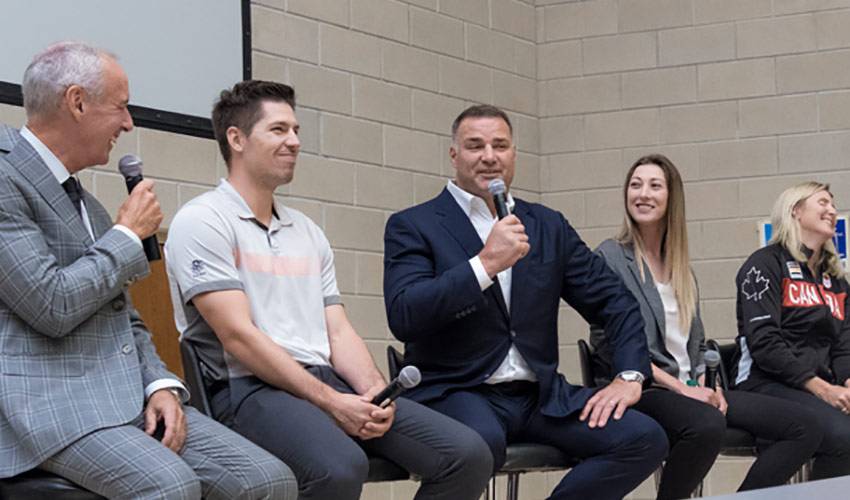 When it comes to being game-changers for concussion research, Logan Couture and Eric Lindros are definitely all-in.
They never played against one another on NHL ice, but San Jose Sharks alternate captain Couture and Hall of Fame forward Lindros share a common bond when it comes to hockey: both have dealt with concussion issues and both are passionate about raising funds and awareness for the condition.
In the days leading up to the fifth annual See The Line symposium at Western University in London, Ont., Lindros, whose hockey career was affected by concussions, spoke passionately about the importance of concussion research.
"The symposium, which is open to the public, is a great way to have an exchange of ideas," said the Honorary Chair of See The Line, who was joined on-stage by Couture, six-time Olympian Hayley Wickenheiser and Hockey Night in Canada's Ron Maclean for the sold-out event. "When you are able to have that open dialogue, there's the opportunity for a lot of learning. It's a great event."
See the Line symposium attendees have the chance to engage with and ask questions of the athletes, and concussion advocates, each with their own concussion story to tell. This year, over 800 people registered to attend the afternoon with over 75 hoping for a free spot on a waiting list.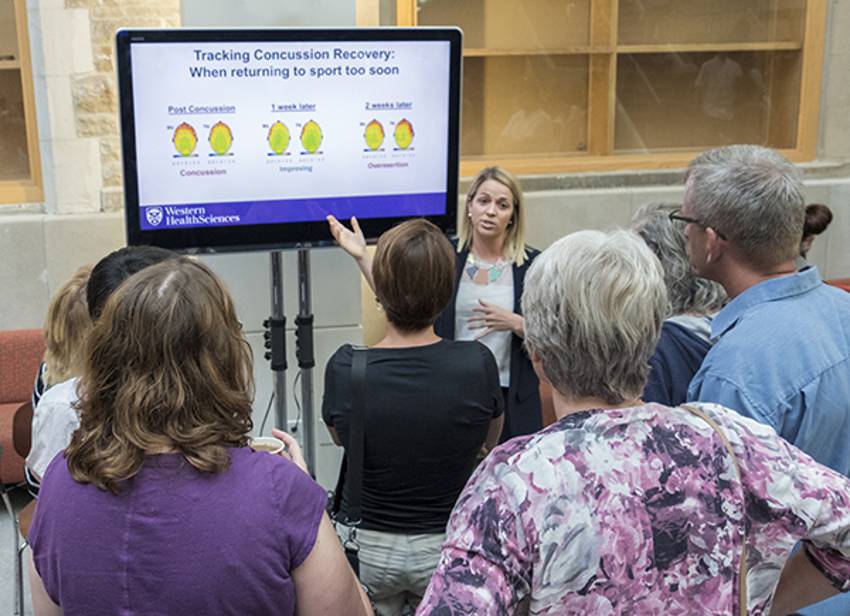 Since 2013, thousands of medical and health professionals, athletes, coaches and community members have attended See the Line (a 10-year initiative) events, which have also included a concussion education workshop, a continuing medical education seminar, and an exclusive evening event.
Couture, who suffered two concussions during his Ontario Hockey League playing days, hosted his first annual All-in For Brain Research charity casino fundraiser later in the evening after the symposium.
The night brought out several athletes and personalities, including fellow NHLPA members Drew Doughty, Jamie McGinn, Dylan DeMelo, and Chis Tierney.
Thank you @Logancouture @jfischersports and many more for putting together an amazing event and for an even better cause!#ALLIN2017 #ldnont pic.twitter.com/YXhrazAuGc

— ✨AlyshaNewman✨ (@alysha_newman94) August 17, 2017
All proceeds go to support concussion awareness, research and rehabilitation programs run by the Fowler Kennedy Sport Medicine Clinic and Western University.
There was a time when Couture, who had originally hoped ticket sales would reach 300, wasn't quite certain how the event would go over.
A sellout of 560 tickets sold, along with an estimate of over $100,000 raised, left the 28-year-old humbled.
"I've had a lot of help and support along the way," said Couture. "There has been a lot of great collaboration since day one. I'm really grateful for everyone that's been part of this."
Lindros, who donated $5 million to London Health Sciences Centre in 2007, is equally grateful.
Honorary Chair for See the Line since its launch, Lindros has worked tirelessly to raise awareness for the initiative, and help bring concussion research at Western University to a national level.
The 2016 Hockey Hall of Fame honoree has taken an active role in this program and helped bring on board the National Hockey League Players' Association, who in 2015 made a challenge donation pledge of $500,000. The NHLPA had representatives at Wednesday's symposium and gala.
"Each year, See The Line has gained momentum," said Lindros. "The NHLPA has really been a great supporter. They know all of this is important. I'm happy that people are talking about it (concussions), having a 'let's learn together' approach. This isn't something that's only confined to sports. Professional athletes might be the ones whose names are in the news, but it's something that can affect anyone. It doesn't mean that one outweighs the other. Everyone's story is important."
A sentiment echoed by Couture.
"It's not just about athletes when it comes to concussions," he said. "There are a lot of kids who are affected by it, too. You just want to help them and everyone in any way you can."
A fun time had by all at the inaugural "All-in for Brain Research" charity casino fundraiser, hosted by @Logancouture in London! #Allin2017 pic.twitter.com/xZNNoyXZPA

— NHLPA (@NHLPA) August 17, 2017