Glass sets sights on Golden Knights roster spot
The hockey world's collective eyes have been on the Vegas Golden Knights since they were announced as the 31st NHL franchise just over a year ago. Monday, Cody Glass became the first player to dress and represent the Golden Knights at the ninth annual NHLPA Rookie Showcase.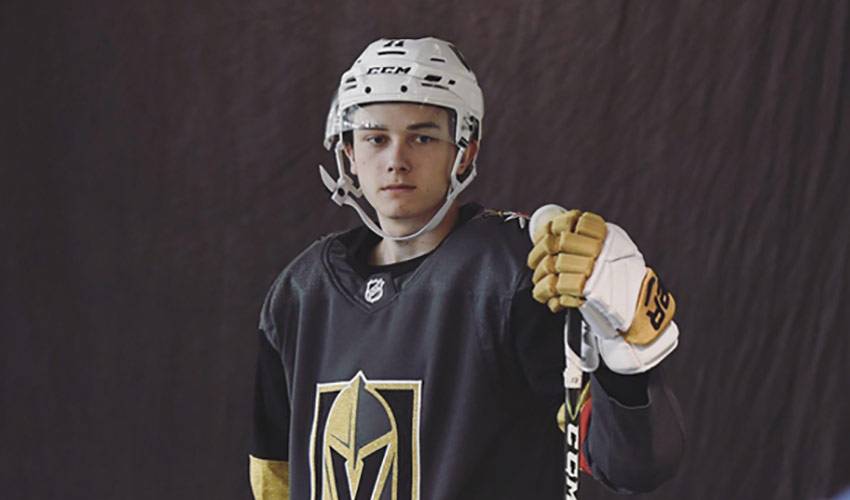 The hockey world's collective eyes have been on the Vegas Golden Knights since they were announced as the 31st NHL franchise just over a year ago.
General Manager George McPhee made a bevy of moves during the 2017 NHL Expansion Draft, the biggest of which could be considered the acquisition of two extra first round picks, which sent Vegas to Chicago with three of the first 15 picks in the draft.
The Golden Knights held the sixth selection and wasted no time in taking what could very well be a centre of the future in Cody Glass.
Monday, the young centre had his first chance to suit up in full Golden Knights gear at the ninth annual NHLPA Rookie Showcase where Upper Deck photographed Glass and the other 25 players in attendance for their trading card and memorabilia product preparations.
The forward burst onto the scene with the Western Hockey League's Portland Winterhawks in 2017. Glass scored 94 points over his 69 games played in the WHL last season, improving on his previous season's point total by a mere 67 points.
"I think it was just the opportunity I was given. Just playing power-play and penalty kill and getting every chance possible. When you get those opportunities, you get more confidence and you start to build," said Glass during the event held at Mattamy Athletic Centre. "I think that's where my offence came from. Just from the confidence."
The 18-year-old had no inclination of which team would select him in the draft. After seeing some mock drafts, he thought Vegas was a possibility. He made sure to keep up with the expansion draft and which players ended up with the Golden Knights.
"(Brendan) Leipsic is a good friend of mine so I wanted to see if he'd go to Vegas or not," Glass said. "I paid a lot of attention to it because I knew that was a team that I could end up with."
Leipsic did end up with the Golden Knights, as did Glass' former high school classmate Keegan Kolesar, a 2015 third round draft pick of the Columbus Blue Jackets who was traded to Vegas in June.
Kolesar played for the Seattle Thunderbirds, who were a constant matchup for the Winterhawks in the WHL's U.S. Division.
"I had to play against him 12 times a year, he's kind of a scary guy so it's gonna be nice to have him on my side," said Glass. "It makes me a lot more comfortable having guys from Winnipeg that I know there with me, it makes it a lot easier."
After taking Glass, Vegas still held the 13th and 15th picks in the draft, the team proceeded to take centre Nick Suzuki and Swedish defenceman Erik Brannstrom.
The Golden Knights also got lucky in the second round, snatching up a hulking defender in Nicolas Hague – who many considered to be a first rounder – with the 34th overall pick.
"I think moving forward three or four years from now, it's going to be a lot easier. You see talent like Brannstrom and Suzuki and they both bring a lot of different stuff to the table. I think we had a really good draft class this year," Glass said of his fellow draftees.
Glass will forever go down as the first draft pick in the history of the Golden Knights. In 2011, Mark Scheifele of the Winnipeg Jets held a similar distinction – he was the Winnipeg Jets' first draft selection following the franchise moving from Atlanta. The centre had a shaky start to his career before rounding into one of the best all-around centres that the NHL has to offer.
Funnily enough, as a Winnipeg native, Glass has had the chance to watch Scheifele closely over the last few seasons. He believes that he plays a very similar two-way style to the Jets centre and has tried to mimic his game after him. If he can turn into the player Scheifele has become, Vegas should be very pleased with this selection.
With training camp looming, Glass will be back to the all-too-familiar routine of a full hockey season in a few short weeks.
Glass says that he is looking forward to his first camp and what he will learn, knowing that no matter the outcome, there are positives to each scenario.
"If I get sent back down, it's not the worst case scenario. I'll grow as a player and mature more and be more confident. My ultimate goal is to make the NHL at 19, but if I make it there earlier, then hey, I'm fine with that!"